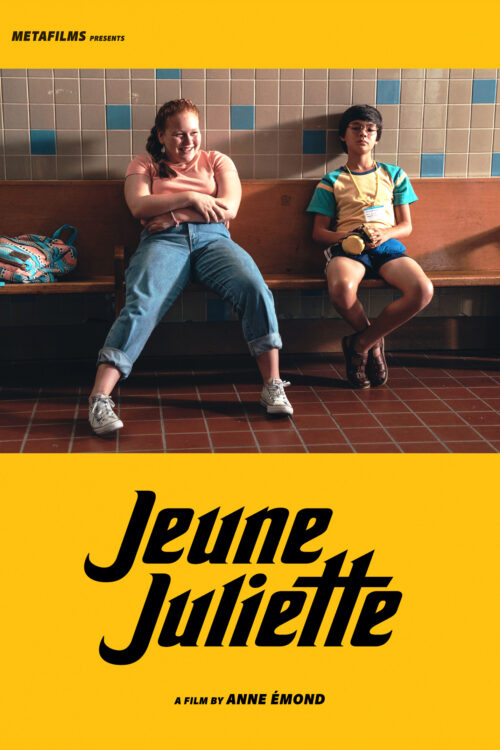 Jeune Juliette
A Film by Anne Emond
2019 - Canada - Comedy/Drama - 1.78 - 93 min.
with Alexane Jamieson , Léanne Désilets & Antoine Desrochers
Language: French
Produced by Sylvain Corbeil
Meet Juliette, a high school sophomore. Juliette is a heavy girl; she's also bold, funny, slightly scheming and totally endearing. It's the hectic last few weeks before summer vacation, and Juliette is about to learn some big lessons about boys, love, and friendship. She'll even do some growing up—but not too much.
Namur
Official Competition
More Films
A film by Angela Schanelec
2009 - France/Germany - Drama - 2.35 DCP - 84 min.
End of winter. Two hours at the Paris Orly Airport. A young woman (Natacha Régnier), on the way home to her husband falls for a stranger (Bruno Todeschini). A mother (Mireille Perrier) and her nearly grown son (Emile Berling) are traveling to the funeral of her exhusband, the boy's father. A young couple (Jirka Zett, Lina Falkner) on their first big trip abroad lose touch with each other. A woman (Maren Eggert) finally dares to read her husband's (Josse De Pauw) break-up letter in the soothing anonymity of public space. All wait for their planes. Completely absorbed in following their immediate fates, they move through the impeccably structured and functional building, unaware of a looming threat outside that will result in the airport's imminent evacuation.
A film by Nir Bergman
2010 - Israel - Drama - 1.85 DCP - 110 min.
Three years in the life of Aharon Kleinfeld, the boy who stopped growing. Perhaps he is afraid of growing up and becoming like his crude parents, or maybe he is just a late bloomer, in need of a little more time. But nobody has the time to wait.
Explanation for Everything
A film by Gábor Reisz
2023 - Hungary/Slovakia - Drama - 1.33 - 152 min.
It's summer in Budapest, high school student Abel is struggling to focus on his final exams, whilst coming to the realisation that he is hopelessly in love with his best friend Janka. The studious Janka has her own unrequited love with married history teacher Jakab - who had a previous confrontation with Abel's conservative father. The tensions of a polarised society come unexpectedly to the surface when Abel's history graduation exam turns into a national scandal.