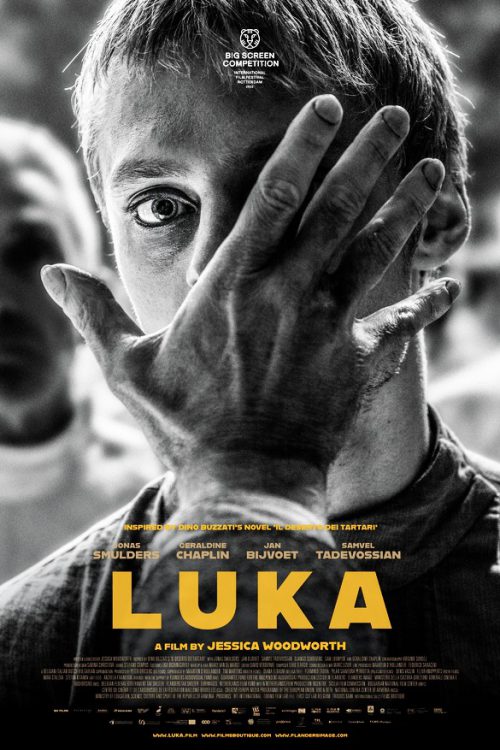 Luka
A Film by Jessica Woodworth
2023 - Belgium/Italy/Netherlands/Bulgaria/Armenia - Sci-Fi - 1.85:1 - 94 min.
with Jonas Smulders , Geraldine Chaplin , Samvel Tadevossian , Jan Bijvoet , Sam Louwyck , Django Schrevens & Hal Yamanouchi
Language: English
Produced by Peter Brosens , Maarten D'Hollander , Tim Martens , Diana Elbaum , Flaminio Zadra , Pilar Saavedra Perrotta , Denis Vaslin , Fleur Knopperts , Stefan Kitanov , Mira Staleva & Anzhela Frangyan
Luka, a young and ambitious soldier, embeds himself in the legendary Fort Kairos where heroic warriors defend the remains of civilization. His hopes to serve as an elite sniper are crushed when he is assigned to maintenance and must submit to the code of Kairos: obedience-endurance-sacrifice. As he rises through the ranks, Luka finds joy and strength in friendships with Konstantin, an enigmatic radar engineer, and Geronimo, a light-hearted private.
In Collection:
Rotterdam 2023
Big Screen Competition
More Films
A film by Pascal Rabaté
2011 - France - Comedy - 2.35 DCP - 80 min.
One spring weekend on the Atlantic coast, two pensioners on their way to their second home — a maisonette no bigger than a postage stamp — cross paths with a couple of punks whose vacation residence is a house drawn in the sand. At the hotel, the lives of both couples are turned upside down by a lost kite. It is a weekend marked by the meeting of destinies, social classes, generations, and feelings of grief and of joy. A real weekend by the sea.
A film by Lav Diaz
2022 - Philippines/France/Denmark/Portugal - Drama - 1.67 - 187 min.
Lieutenant Hermes Papauran, one of the best investigators of the Philippines, is in a deep moral crossroad. As a member of the police forces, he is a first-hand witness of the murderous anti-drug campaign that his institution is implementing with dedication. The atrocities are corroding Hermes physically and spiritually, causing him a severe skin disease resulting from anxiety and guilt. As he tries to heal, a dark past haunts him and has eventually come back for a reckoning.
A film by Radu Muntean
2015 - Romania - Drama - DCP - 2.35 - 93 min.
After being the sole unfortunate witness to a domestic quarrel that ends up in a murder, Patrascu finds himself at odds with two very close neighbors: one is the bizarre murderer. The other is his very own conscience.