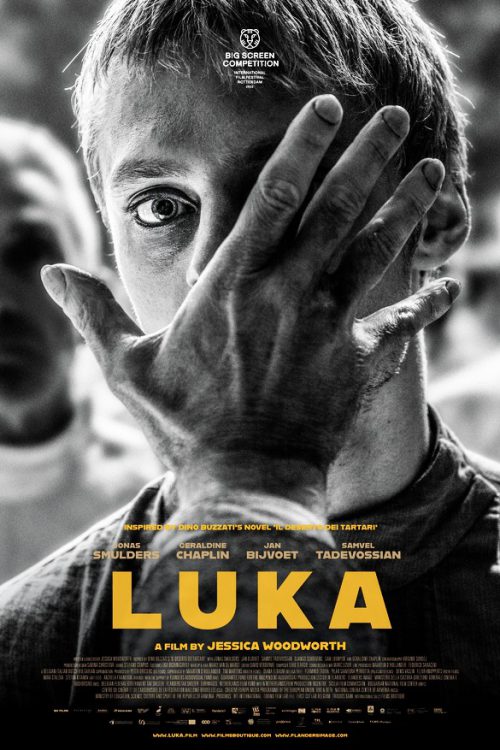 Luka
A Film by Jessica Woodworth
2023 - Belgium/Italy/Netherlands/Bulgaria/Armenia - Sci-Fi - 1.85:1 - 94 min.
with Jonas Smulders , Geraldine Chaplin , Samvel Tadevossian , Jan Bijvoet , Sam Louwyck , Django Schrevens & Hal Yamanouchi
Language: English
Produced by Peter Brosens , Maarten D'Hollander , Tim Martens , Diana Elbaum , Flaminio Zadra , Pilar Saavedra Perrotta , Denis Vaslin , Fleur Knopperts , Stefan Kitanov , Mira Staleva & Anzhela Frangyan
Luka, a young and ambitious soldier, embeds himself in the legendary Fort Kairos where heroic warriors defend the remains of civilization. His hopes to serve as an elite sniper are crushed when he is assigned to maintenance and must submit to the code of Kairos: obedience-endurance-sacrifice. As he rises through the ranks, Luka finds joy and strength in friendships with Konstantin, an enigmatic radar engineer, and Geronimo, a light-hearted private.
In Collection:
Rotterdam 2023
Big Screen Competition
More Films
A film by Mani Haghighi
2022 - Iran/France - Drama/Thriller - 16:9 - 107 min.
In downtown Tehran, Farzaneh, a young driving instructor, spots her husband, Jalal, walking into a woman's apartment. When she confronts him, Jalal claims he was out of town for work. He decides to check out the building for himself. There, he meets a woman who is the spitting image of Farzaneh. Her name is Bita. Stunned, the two compare family photos: Bita's husband also looks identical to Jalal.
A film by João Pedro Rodrigues
2009 - France/Portugal - Drama/Music - 1.33 DCP - 133 min.
Once upon a time there was a war… In the darkness of the night, a young soldier goes AWOL. Tonia, a veteran transsexual in Lisbon's drag shows, watches the world around her crumble. The competition from younger artists threatens her star status. Under pressure from her young boyfriend Rosário to assume her female identity, the sex change operation that will transform her into a woman, Tonia struggles against her deeply-held religious convictions. If, on the one hand, she wants to be the woman that Rosário so desires, on the other, she knows that before God she can never be that woman. And her son, whom she abandoned when he was a child, now a deserter, comes looking for her. Tonia discovers that she's ill. To get away from all her troubles she travels to the countryside with Rosário, on the excuse of visiting his brother. Rosário takes the road of his childhood but will never find the right way. Lost, they find themselves in an enchanted forest, a magical world where they come across the enigmatic Maria Bakker and her friend Paula. And that meeting will turn their whole world on its head…
Julie And The Shoe Factory
A film by Kostia Testut & Paul Calori
2016 - France - Musical Comedy - 2.35 - 90 min.
When Julie finally lands a job at a luxury shoemaker, her dreams of stability collapse as the owner threatens to close the factory.
Together with an intrepid group of women, they decide to resist, bringing back to life a bold and elegant shoe model to save the renowned brand. But when Samy, a young truck driver as wily as charming, jumps in the middle of the fight, this is no longer the same song...