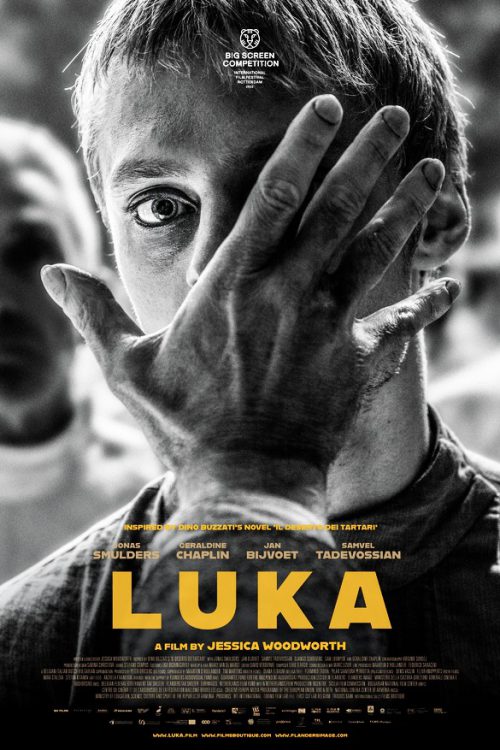 Luka
A Film by Jessica Woodworth
2023 - Belgium/Italy/Netherlands/Bulgaria/Armenia - Sci-Fi - 1.85:1 - 94 min.
with Jonas Smulders , Geraldine Chaplin , Samvel Tadevossian , Jan Bijvoet , Sam Louwyck , Django Schrevens & Hal Yamanouchi
Language: English
Produced by Peter Brosens , Maarten D'Hollander , Tim Martens , Diana Elbaum , Flaminio Zadra , Pilar Saavedra Perrotta , Denis Vaslin , Fleur Knopperts , Stefan Kitanov , Mira Staleva & Anzhela Frangyan
Luka, a young and ambitious soldier, embeds himself in the legendary Fort Kairos where heroic warriors defend the remains of civilization. His hopes to serve as an elite sniper are crushed when he is assigned to maintenance and must submit to the code of Kairos: obedience-endurance-sacrifice. As he rises through the ranks, Luka finds joy and strength in friendships with Konstantin, an enigmatic radar engineer, and Geronimo, a light-hearted private.
In Collection:
Rotterdam 2023
Big Screen Competition
More Films
A film by Jean-Marie Pallardy
1985 - France/Turkey/UK - Adventure/Action - 1.85 - 98 min.
When Bo was a child, a mysterious stranger sadistically murdered his parents. Only Bo and his sister, Ingrid survived the bloodshed. Now, twenty years later… Bo and his sister are grown up. They are employees at a diamond mineshaft located in the desert. As mischievous as they are, they stumble upon the discovery of a legendary diamond, the "White Fire." However, this rapture for the diamond has provoked the angst of some short-tempered, not-so-nice villains. The quest to capture the most sought-out diamond in the world is afoot…
A film by Zeresenay Berhane Mehari
2014 - Ethiopia - Drama - DCP - 2.35 - 99 min.
Meaza Ashenafi is a young lawyer who operates under the government's radar helping women and children in Ethiopia until one young girl's legal case exposes everything, threatening not only her career but her survival.
A film by Fellipe Barbosa
2017 - France/Brazil - Drama - 1.85 - 127 min.
Before entering a prestigious American university, Gabriel decides to travel the world for one year, his backpack full of dreams. After ten months on the road, he arrives in Kenya where he is joined by his girlfriend. But discovering Africa as a tourist is not enough for Gabriel. He decides to go deeper, leaving on his own for a journey across countries, new friendships and raw emotions to finally reach Mount Mulanje in Malawi, his final destination.