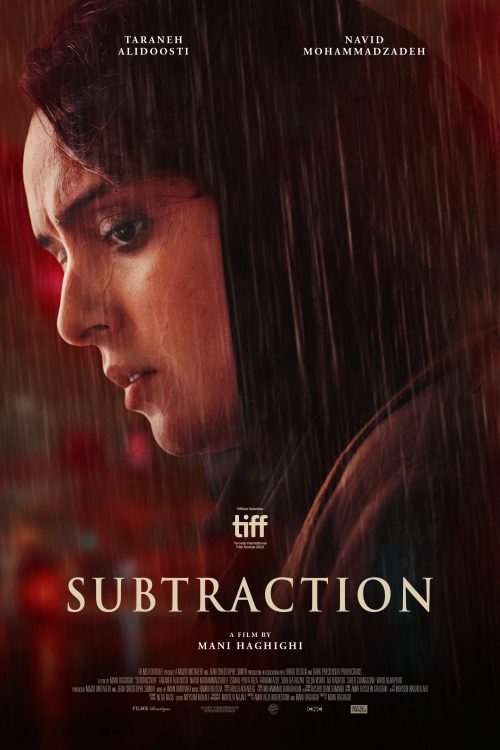 Subtraction
A Film by Mani Haghighi
2022 - Iran/France - Drama/Thriller - 16:9 - 107 min.
with Taraneh Alidoosti & Navid Mohammadzadeh
Language: Farsi
Produced by Majid Motalebi
In downtown Tehran, Farzaneh, a young driving instructor, spots her husband, Jalal, walking into a woman's apartment. When she confronts him, Jalal claims he was out of town for work. He decides to check out the building for himself. There, he meets a woman who is the spitting image of Farzaneh. Her name is Bita. Stunned, the two compare family photos: Bita's husband also looks identical to Jalal.
TIFF 2022
Platform Competition
More Films
A film by Halina Reijn
2019 - Netherlands - Drama/Thriller - 2.35 - 98 min.
Nicoline, an experienced psychologist, starts a new job at a penal institution. She meets Idris, a sex offender who committed a series of grave crimes. After five years of treatment, he is about to go on his first unaccompanied probation. His team of practitioners are enthusiastic about his development but newcomer Nicoline does not trust him and tries to push his probation. Idris tries his hardest to convince Nicoline of his good intentions, but slowly but surely, he transforms into the manipulative man she saw in him from the beginning. A power play emerges between the two and Nicoline, in spite of her knowledge and experience, lets herself be trapped completely.
A film by Zeresenay Berhane Mehari
2014 - Ethiopia - Drama - DCP - 2.35 - 99 min.
Meaza Ashenafi is a young lawyer who operates under the government's radar helping women and children in Ethiopia until one young girl's legal case exposes everything, threatening not only her career but her survival.
A film by Jaione Camborda
2023 - Spain/Belgium/Portugal - Drama - 105 min.
1971, Francoist Spain. In the Galician countryside María assists women in childbirth. After an attempt to help a young woman in trouble, she suddenly has to hide from the authorities, leave everything behind and flee the country.
On her perilous journey to Portugal, María encounters female solidarity and realizes that she is not alone and that, thanks to the help of others, she might finally find her freedom.