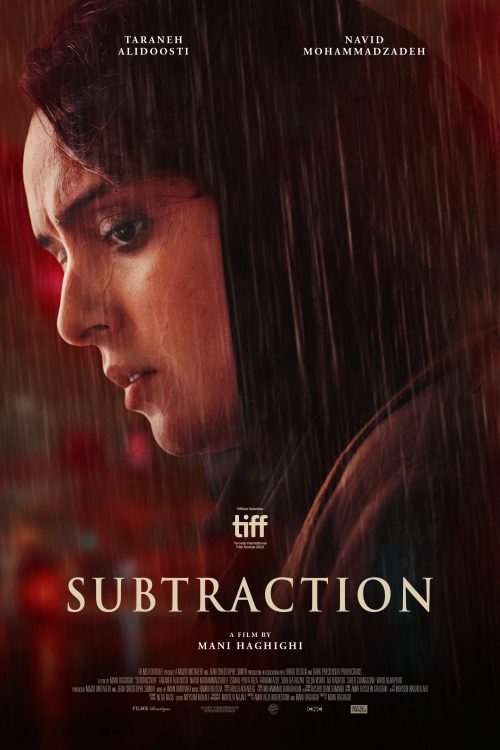 Subtraction
A Film by Mani Haghighi
2022 - Iran/France - Drama/Thriller - 16:9 - 107 min.
with Taraneh Alidoosti & Navid Mohammadzadeh
Language: Farsi
Produced by Majid Motalebi
In downtown Tehran, Farzaneh, a young driving instructor, spots her husband, Jalal, walking into a woman's apartment. When she confronts him, Jalal claims he was out of town for work. He decides to check out the building for himself. There, he meets a woman who is the spitting image of Farzaneh. Her name is Bita. Stunned, the two compare family photos: Bita's husband also looks identical to Jalal.
TIFF 2022
Platform Competition
More Films
A film by Radu Muntean
2010 - Romania - Drama/Romance - 2.35 DCP - 99 min.
Paul is married to Adriana for 10 years. They have a daughter, a car, an apartment and they still seem to be in love. Paul also has an affair with Raluca, a 27-years-old dentist he met 6 months ago. Paul loves both women, but when the two of them meet by chance, he's forced to make a decision.
A film by Duccio Chiarini
2014 - Italy - Comedy/Drama - 1.85 DCP - 86 min.
It's summer and everybody seems to talk only about sex. Edoardo is insecure and awkward with girls: he never told anybody even his best friend Arturo that since birth his foreskin is too narrow preventing him from having sex. But when you are 17, love is in the air: Edoardo will have to find his way.
A film by Oleg Novković
2010 - Serbia - Drama - 2.35 DCP - 121 min.
In the town of Bor, a rotten mining center in southeast Serbia, lives King, a lonesome cowboy of about 40, a former miner, now a local bar owner. Once he was involved with Ruzica, the town beauty and wife of his boxing coach Zivina. When Zivina found out about the affair Ruzica killed him. After seven years in jail Ruzica comes back to Bor. She goes to see King, only to find out that he is involved with another woman. Her daughter Rosa.