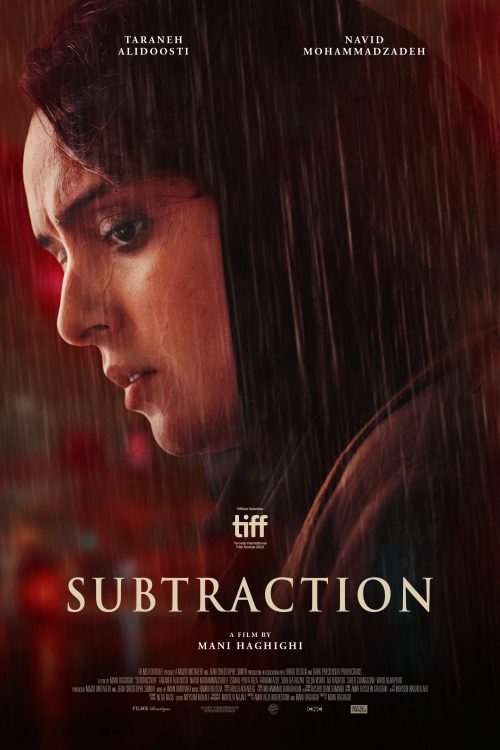 Subtraction
A Film by Mani Haghighi
2022 - Iran/France - Drama/Thriller - 16:9 - 107 min.
with Taraneh Alidoosti & Navid Mohammadzadeh
Language: Farsi
Produced by Majid Motalebi
In downtown Tehran, Farzaneh, a young driving instructor, spots her husband, Jalal, walking into a woman's apartment. When she confronts him, Jalal claims he was out of town for work. He decides to check out the building for himself. There, he meets a woman who is the spitting image of Farzaneh. Her name is Bita. Stunned, the two compare family photos: Bita's husband also looks identical to Jalal.
TIFF 2022
Platform Competition
More Films
A film by David Verbeek
2010 - France/Netherlands/Taiwan - Drama - 2.35 DCP - 90 min.
Jitze, a young Dutch professional gamer, travels the world to compete in video game tournaments. During a stay in Taipei his arm starts to hurt and he's forced to take a few days rest. A night in his hotel, Jitze meets a girl and starts realizing what it means to be human in the age of the virtual worlds.
A film by Everardo González
2017 - Mexico - Documentary - 1.85 - 74 min.
Mexico, 2016. In some of the world's most dangerous cities life is not worth much. Looking into the eyes of the protagonists of violence, victims as well as executioners, helps to understand how fear inserted itself in the subconscious of our society. Through a network of concrete stories, we are facing the most obscure traits of the human psyche, the frail balance between humanity and evil.
A film by Daniela Thomas
2017 - Portugal/Brasil - Drama - 2.39 - 114 min.
Brazil, 1821. Upon his return to the imposing farmhouse, Antonio, a slave trader, finds out that his wife died in labor. Forced to live in the property with numerous African slaves, he marries his wife's niece. A restless soul, he returns to his trading expeditions, leaving his young wife behind alone with the slaves.