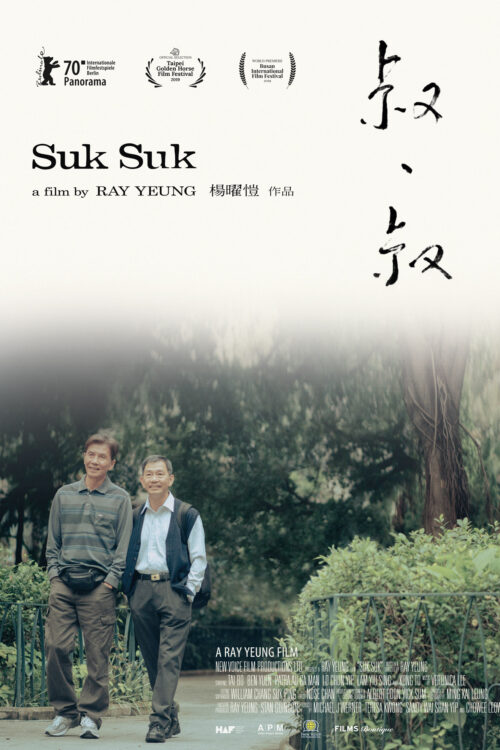 Suk Suk
A Film by Ray Yeung
2019 - Hong Kong - Drama/LGBT - 2.35 - 92 min.
with Bo Tai , Ben Yuen & Patra Ga Man Au
Language: Cantonese
Produced by Michael J Werner , Teresa Kwong , Sandy Yip & Chowee Leow
Pak is a 70-year-old taxi driver who lives with his wife. His son is happily married with a child, and his daughter is pregnant and about to be married. Hoi lives with his devout Christian son and family after he divorced his wife. The two men, who have lived all their lives never revealing their sexual identities, meet by chance in the streets of Hong Kong. As Pak and Hoi fall in love they contemplate a possible future together.
Busan
Film Festival
Berlinale 2020
Panorama
More Films
A film by Daniela Thomas
2017 - Portugal/Brasil - Drama - 2.39 - 114 min.
Brazil, 1821. Upon his return to the imposing farmhouse, Antonio, a slave trader, finds out that his wife died in labor. Forced to live in the property with numerous African slaves, he marries his wife's niece. A restless soul, he returns to his trading expeditions, leaving his young wife behind alone with the slaves.
A film by Quarxx
2018 - France - Drama/Sci-Fi - 1.85 - 102 min.
Simon, a 30-year-old man, works at a factory and lives confined on a decrepit farm alone with his younger sister, Estelle, who is severely handicapped since a childhood game that took a disastrous turn. Despite his deep remorse and the violence of the world that surrounds him, Simon desperately hopes to save his sister by liberating her from the weight of the world. What if their salvation was coming from "them"?
Talking about the weather
A film by Annika Pinske
2022 - Germany - Drama - 2.39:1 - 90 min.
Clara made it: she has got away from her native provincial East Germany, now living a bohemian life in Berlin, teaching philosophy while finishing her Ph. D. Between an affair with one of her students and her testy friendship with her thesis advisor Margot, she barely has time to see her 15-year-old daughter, who mostly lives with her ex. But when Clara visits her mother for a weekend, she finds herself confronted with her ideal of an unfettered, self-determined life. How high is the price she must pay for it?