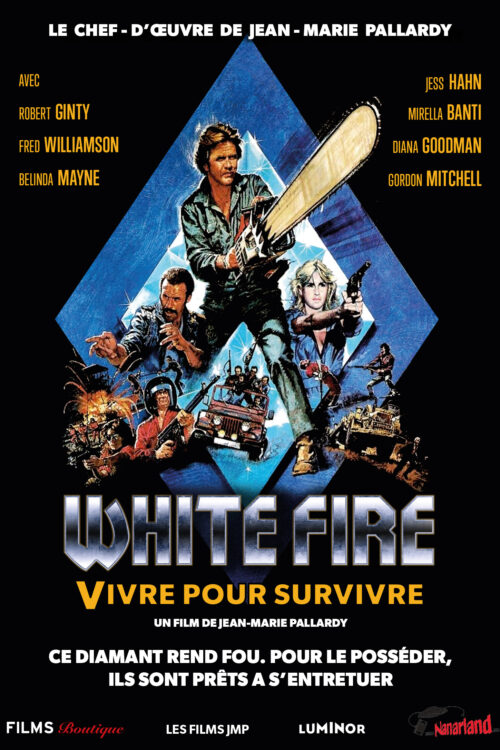 White Fire
A Film by Jean-Marie Pallardy
1985 - France/Turkey/UK - Adventure/Action - 1.85 - 98 min.
with Robert Ginty , Fred Williamson & Belinda Mayne
Language: French
Produced by Jean-Marie Pallardy
When Bo was a child, a mysterious stranger sadistically murdered his parents. Only Bo and his sister, Ingrid survived the bloodshed. Now, twenty years later… Bo and his sister are grown up. They are employees at a diamond mineshaft located in the desert. As mischievous as they are, they stumble upon the discovery of a legendary diamond, the "White Fire." However, this rapture for the diamond has provoked the angst of some short-tempered, not-so-nice villains. The quest to capture the most sought-out diamond in the world is afoot…
Fantastic Fest
2018
More Films
A film by Michael Tully
2014 - USA - Comedy - DCP - 1.78 - 92 min.
1985. Rad Miracle is a shy, 13-year-old kid obsessed with two things: ping-pong and music. During his family's annual summer vacation to Ocean City, Maryland, Rad makes a new best friend, experiences his first real crush, becomes the target of rich, racist local bullies and finds an unexpected mentor in his outcast next-door neighbor...
A film by Philippe Grandrieux
2016 - France - Erotic Drama - 154 min.
English musician Lenz searches for his lover Madeleine, who has mysteriously disappeared, but tumbles into an amour fou with troubled, self-destructive Héléne.
Grieving the loss of her infant son, Héléne seeks oblivion in the murky subterranean world of a brutal
sex ring, followed by Lenz. A stark, elliptical, hauntingly spectral narrative with scenes of sensual abandon and raw carnality.
A film by Zsofia Szilagyi
2018 - Hungary - Drama - 2.39 - 99 min.
Anna is 40. She is always in a rush. She has three children, a husband, a job and financial stress. Anna meets deadlines, makes promises, takes care of things, brings stuff home and remembers everything. But she never catches up with her husband. She'd like to talk to him. She feels she is losing him. And she feels she can't always evade what comes next. A clash between the everyday, the unbearably monotonous and the fragile and unique.