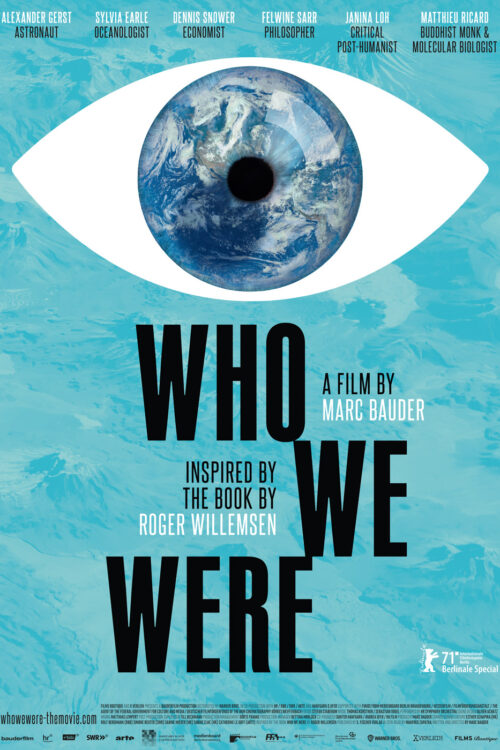 Who We Were
A Film by Marc Bauder
2021 - Germany - Documentary - 2.39 - 114 min.
Languages: English , German
Produced by Marc Bauder
WHO WE WERE observes the current state of the world, accompanied by six intellectuals and scientists who reflect on the present and postulate about the future. Director Marc Bauder follows his interviewees into the depths of the ocean, to the top of the world, and out into the far reaches of space. Together, they explore the incredible capabilities of the human brain, a global economic summit, the legacy of colonisation, and the feelings of a robot.
Berlinale 2021
Special Gala
Millennium Docs
Green Warsaw Award
More Films
A film by Geoffrey Enthoven
2011 - France/Belgium/Spain - Comedy/Drama - 2.35 DCP - 115 min.
Three guys in their early twenties love wine and women but they are still virgins. Under the guise of a wine tour they embark on a journey to Spain hoping to have their first sexual experience. Nothing will stop them. Not even their handicaps: one is blind, the other is confined to a wheelchair and the third one is completely paralyzed.
A film by Anne Linsel
2009 - Germany - Documentary - 1.85 DCP - 89 min.
The dance performance "Kontakthof" bears the unmistakable signature of Pina Bausch: it deals with forms of human contact, the encounters between the sexes, and the search for love and tenderness with all the attendant anxieties, yearnings and doubts. It is about feelings, which pose a big challenge, particularly for young people. For almost a year teenagers from over eleven schools in Wuppertal went on an emotional journey. Every Saturday, 40 students, aged between 14 to 18 years, rehearsed under the direction of the Bausch-dancers Jo-Ann Endicott and Bénédicte Billiet and under the intense supervision of Pina Bausch herself. The film "Dancing Dreams" by Anne Linsel and Rainer Hoffmann accompanies the rehearsal process culminating in the opening night. We watch the teenagers making their first, still clumsy attempts to transform the subjects of the dance performance into motion and choreography and to develop an own, individual body expression. They discover themselves in a process, which leads great personal growth. Gentle and shy but also aggressive contacts condensate to individual experiences that many of the teenagers encounter for the first time on stage. Pina Bausch has always encouraged the young dancers "to be themselves." It is behind their own movements, fears, feelings and desires that their personal "Dancing Dreams" become visible. At the end each of them has not only grown up, but above all has become more self-confident, independent and more sceptical facing prejudices. Employing an unusual adjacency, the film introduces the young protagonists in sensitive ways, it culminates in drawing a portrait of an entire generation. Pina Bausch died on June 30th, 2009. "Dancing Dreams – teenagers perform "Kontakthof" by Pina Bausch" shows the last motion pictures and the last interview with the world-famous dancer and choreographer.
The Last Time I Saw Macao
A film by João Pedro Rodrigues & João Rui Guerra da Mata
2012 - France/Portugal - Drama - DCP - 1.85 - 82 min.
Thirty years later I'm on my way to Macao where I haven't been since I was a child. I got an e-mail, in Lisbon, from Candy, a friend I hadn't heard from in ages. She told me that she had been involved yet again with the wrong men and asked me to go to Macao where "strange and scary things" were happening. Tired, after a long flight, I'm approaching Macao aboard the jetfoil which will take me back to the happiest time in my life.