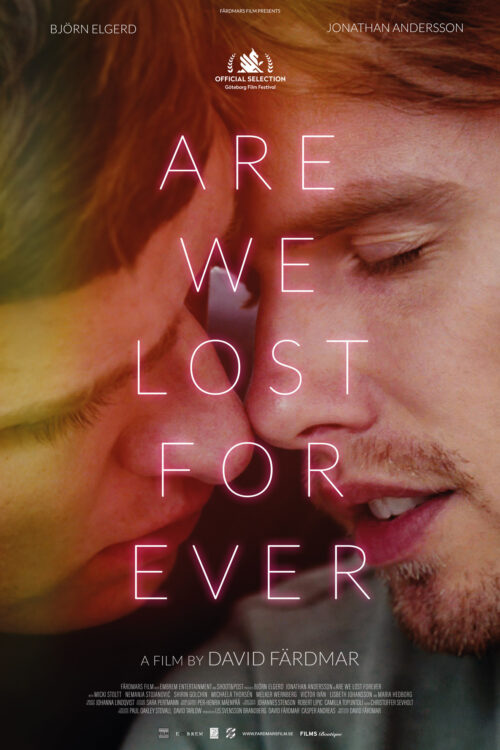 Are We Lost Forever
A Film by David Färdmar
2020 - Sweden - Drama/LGBTQ - 104 min.
with Björn Elgerd , Jonathan Andersson , Micki Stoltt , Nemanja Stojanovic & Victor Iván
Language: Swedish
Produced by Lis Svensson Brandberg , David Färdmar & Casper Andreas
One morning it is over. For Hampus it is a relief to break up from their destructive relationship, while Adrian is devastated and heartbroken. Will he be able to survive without the love of his life, or is there a possible way of somehow getting him back?
Göteborg IFF
2020
Nordic Film Market
2020
Supported by:

More Films
A film by Johann Johannsson
2020 - Iceland - Dystopian/Sci-Fi - 1.66 - 70 min.
Two billion years ahead of us, a future race of humans finds itself on the verge of extinction. Almost all that is left in the world are lone and surreal monuments, beaming their message into the wilderness.
A film by Amanda Nell Eu
2023 - Malaysia/Taiwan/Singapore/France/Germany/Netherlands/Indonesia/Qatar - Fantasy - 1.85 - 95 min.
The first amongst her friends to hit puberty, Zaffan, 12, discovers a terrifying secret about her body. Ostracized by her community, Zaffan fights back, learning that to be free she must embrace the body she feared, emerging as a proud, strong woman.
A film by Jeanne Labrune
2010 - France - Comedy/Drama - 1.85 DCP - 95 min.
Alice, a luxury-prostitute in her forties got tired of her job and seeks a therapist to change her life. Xavier, a well-established psychologist, gets more and more annoyed by his clients' monologues. When his wife leaves him, he meets Alice.