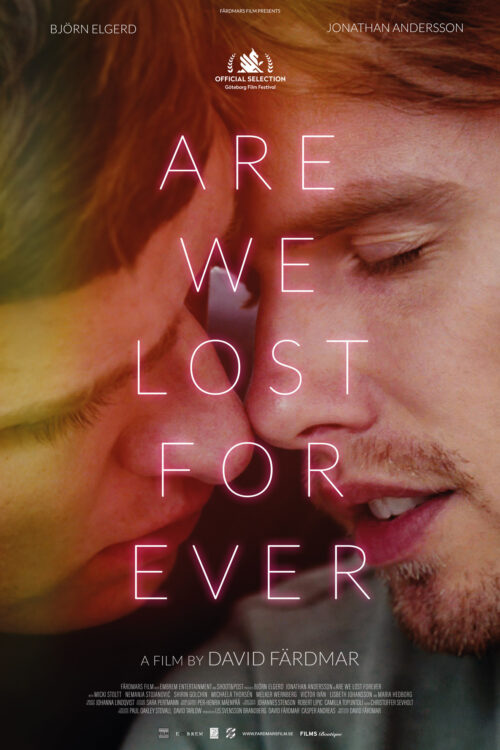 Are We Lost Forever
A Film by David Färdmar
2020 - Sweden - Drama/LGBTQ - 104 min.
with Björn Elgerd , Jonathan Andersson , Micki Stoltt , Nemanja Stojanovic & Victor Iván
Language: Swedish
Produced by Lis Svensson Brandberg , David Färdmar & Casper Andreas
One morning it is over. For Hampus it is a relief to break up from their destructive relationship, while Adrian is devastated and heartbroken. Will he be able to survive without the love of his life, or is there a possible way of somehow getting him back?
Göteborg IFF
2020
Nordic Film Market
2020
Supported by:

More Films
A film by Daniela Thomas
2017 - Portugal/Brasil - Drama - 2.39 - 114 min.
Brazil, 1821. Upon his return to the imposing farmhouse, Antonio, a slave trader, finds out that his wife died in labor. Forced to live in the property with numerous African slaves, he marries his wife's niece. A restless soul, he returns to his trading expeditions, leaving his young wife behind alone with the slaves.
A film by Esther Rots
2009 - Netherlands - Drama - 1.85 DCP - 97 min.
The life of Marieke is transformed by an act of violence. She decides to escape from her hometown and buys a remote and derelict cottage in the Zeeland countryside. By making a new start, she hopes to be able to shake off the violent experience, but the cold and loneliness only add to her feelings of fear and vengeance. With the arrival of summer and a new love, Marieke seems to be regaining strength. But slowly, she loses this grip on her life.
A film by Andrei Konchalovsky
2020 - Russia - Drama - 1.33 - 120 min.
A provincial town in the south of the USSR, 1962. Lyudmila, a devout Communist Party official and idealistic veteran of WW II, is a scourge of anything she perceives as anti-Soviet sentiment. Together with other local Party officials, she is taken by surprise by a strike at the local factory, in which her own daughter is taking part. As the situation quickly spirals out of control, Lyudmila begins a desperate search for her daughter in the face of curfews, mass arrests, and the authorities' ruthless attempts to cover up the state violence. Her once unquestioning faith in the party line is shaken by her growing awareness of its human toll, tearing apart the world she thought she knew.