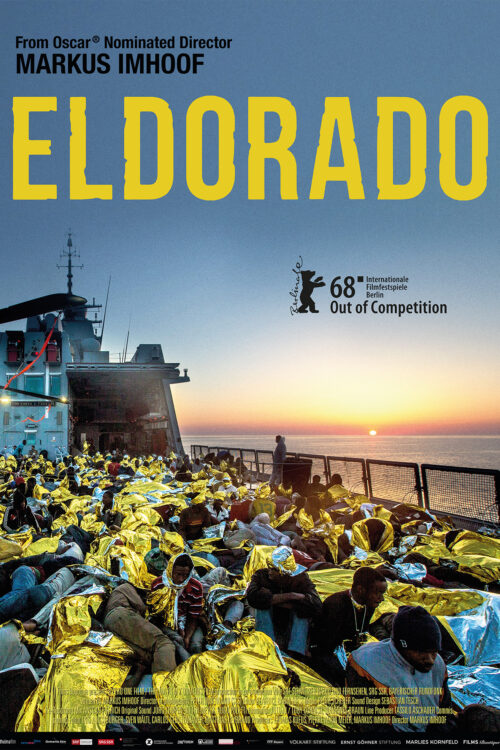 Eldorado
A Film by Markus Imhoof
2018 - Germany/Switzerland - Documentary - 1.85 - 92 min.
Languages: English , Italian , German
Produced by Pierre-Alain Meier & Thomas Kufus
In the lean years of WW II, the family of Swiss director Markus Imhoof took in Giovanna, an Italian refugee part of a limited-term program for children. When her stay ended, Giovanna was forced to return to Italy, where she died of illness soon after. With this early experience as a point of entry to the ongoing refugee crisis, Imhoof takes us on a journey with extraordinary access through the Italian warships of Operation Mare Nostrum, refugee camps handled by the Italian Mafia, asylum hearings with local authorities, all designed to turn back refugees at all levels. What emerges is a stark picture of a human tragedy and the biggest mass displacement of people since World War II.
Berlinale
Out of Competition
Telluride 2018
Oscars 2019
Swiss submission
More Films
A film by Tsivia Barkai
2018 - Israel - Drama - 90 min.
Red Cow takes place in the days leading up to the assassination of Rabin and depicts the life of Benny, 16, orphaned from mother at birth and the only child of Joshua - a religious, right-wing extremist, in those critical junctures when she is forming her sexual, religious and political awareness.
A film by Tibor Bánóczki & Sarolta Szabó
2023 - Hungary/Slovakia - Animation/Sci-Fi - 2.39:1 - 111 min.
2123. Faced with diminishing resources, the human race can only survive through a trade-off: at the age of 50, every citizen is gradually turned into a tree. When Stefan discovers that his beloved wife Nora has voluntarily signed up for donating her own body before her time, he sets out on an adventurous journey to save her at all costs.
A film by Ashwiny Iyer Tiwari
2015 - India - Drama - DCP - 2.35 - 96 min.
Behind the magnificent Taj Mahal lies a cluster of dingy homes where Chanda (35), a domestic help, lives with her 14-year-old daughter Appu. Chanda aspires and dreams that her daughter will study and embrace a better fate. When Appu tells her she wants to quit school and become a maid like her, Chanda takes a strong decision: she will herself go back to school, and even join the class of her daughter.