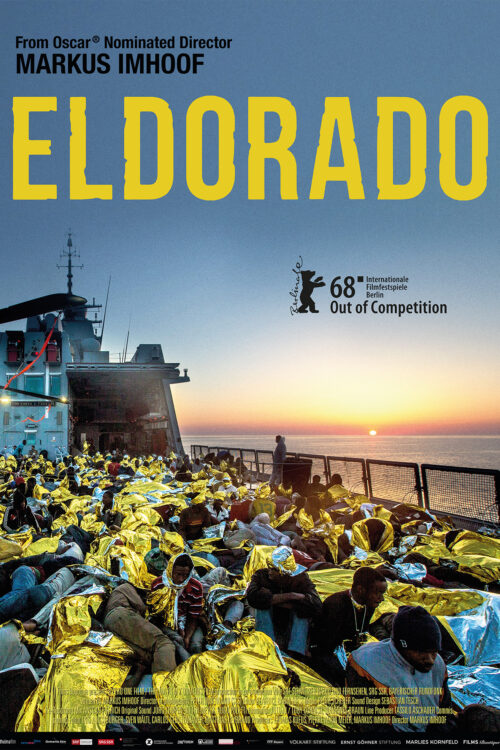 Eldorado
A Film by Markus Imhoof
2018 - Germany/Switzerland - Documentary - 1.85 - 92 min.
Languages: English , Italian , German
Produced by Pierre-Alain Meier & Thomas Kufus
In the lean years of WW II, the family of Swiss director Markus Imhoof took in Giovanna, an Italian refugee part of a limited-term program for children. When her stay ended, Giovanna was forced to return to Italy, where she died of illness soon after. With this early experience as a point of entry to the ongoing refugee crisis, Imhoof takes us on a journey with extraordinary access through the Italian warships of Operation Mare Nostrum, refugee camps handled by the Italian Mafia, asylum hearings with local authorities, all designed to turn back refugees at all levels. What emerges is a stark picture of a human tragedy and the biggest mass displacement of people since World War II.
Berlinale
Out of Competition
Telluride 2018
Oscars 2019
Swiss submission
More Films
A film by Asaf Korman
2014 - Israel - Drama - DCP - 2.35 - 90 min.
Chelli is raising her mentally disabled sister Gabby all by herself. When the social worker discovers she leaves her sister alone in the house while at work, Chelli is forced to place her in a day-care center and the void left by her sister's absence makes room for a man in her life. That man, Zohar, tears another crack in the symbiotic relationship of the two sisters.
A film by Claire Simon
2008 - France/Belgium - Comedy/Drama - 2.35 DCP - 122 min.
Djamila would like to be on the pill because her relationship with her boyfriend has become serious stuff now; Zoé's mother gives her condoms but calls her a whore; Nejma hides her pills outside because her mother searches her bag; Hélène finds herself too fertile; Clémence is scared; Adeline wishes she could have kept it, and so does Margot. Maria Angela would like to know who she's pregnant by, while Ana Maria has opted for love and freedom. Anne, Denise, Marta, Yasmine, and Milena are the advisers receiving and listening to each of these women as they wonder how sexual freedom can be enjoyed. In God's offices, you laugh and cry and feel swamped. You dance there, you have a cigarette on the veranda, and you come anonymously to tell the commonplace or unbelievable story of your life.
A film by Ildiko Enyedi
2017 - Hungary - Drama - 2.39 - 116 min.
Two introverted people find out by pure chance that they share the same dream every night. They are puzzled, incredulous, a bit frightened. As they hesitantly accept this strange coincidence, they try to recreate in broad daylight what happens in their dream.