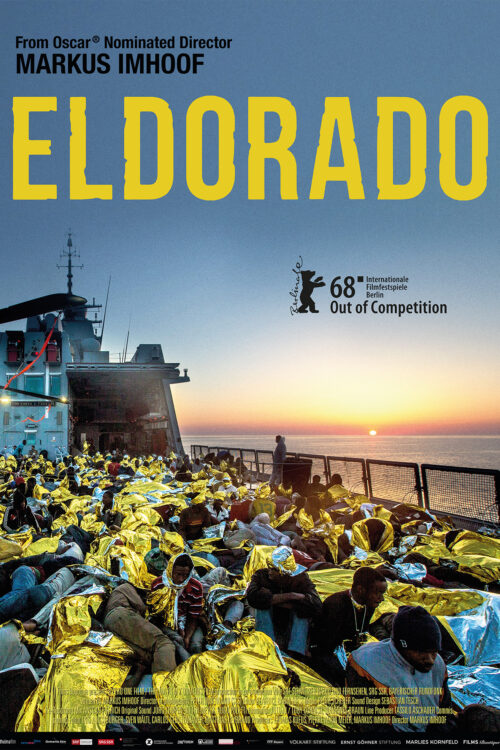 Eldorado
A Film by Markus Imhoof
2018 - Germany/Switzerland - Documentary - 1.85 - 92 min.
Languages: English , Italian , German
Produced by Pierre-Alain Meier & Thomas Kufus
In the lean years of WW II, the family of Swiss director Markus Imhoof took in Giovanna, an Italian refugee part of a limited-term program for children. When her stay ended, Giovanna was forced to return to Italy, where she died of illness soon after. With this early experience as a point of entry to the ongoing refugee crisis, Imhoof takes us on a journey with extraordinary access through the Italian warships of Operation Mare Nostrum, refugee camps handled by the Italian Mafia, asylum hearings with local authorities, all designed to turn back refugees at all levels. What emerges is a stark picture of a human tragedy and the biggest mass displacement of people since World War II.
Berlinale
Out of Competition
Telluride 2018
Oscars 2019
Swiss submission
More Films
A film by Sérgio Machado
2015 - Brazil - Drama - DCP - 2.35 - 100 min.
After failing to be admitted into the renowned São Paulo Symphonic Orchestra, Laerte, a talented violinist, is forced to give music classes to teenagers in a public school in Heliopolis, the biggest favela of Brazil. His path is full of difficulties but the transforming power of music and the friendship arising between the professor and his students open the doors into a new world.
Based on a true story.
A film by Lav Diaz
2016 - Philippines - Drama - 1.85 - 226 min.
Horacia has spent the last 30 years in a women's correctional facility. A former elementary school teacher, she leads a quiet existence helping others practice reading and writing. When another inmate confesses to the original crime, Horacia is released and seeks out her estranged family. While searching for her missing son Junior, she discovers again her homeland - the Philippines of the late 90s, only to realize that its inhabitants are terrorized by corruption and rampant kidnappings. Her generous personality becomes tainted by feelings of revenge...
A film by Zhang Lu
2023 - China - Drama - 1.85:1 - 144 min.
Gu Wentong, a middle-aged food critic, is drifting through the local eateries of vibrant Beijing with his younger photographer colleague Oyang. A divorcé with a 6-year-old daughter and estranged from his father for decades, he is looking for a new perspective on life while reconsidering his failings as a father, a son, and a lover. While the seasons come and go, people get together and move apart. Only one thing will remain the same: The White Pagoda where they all meet sooner or later...