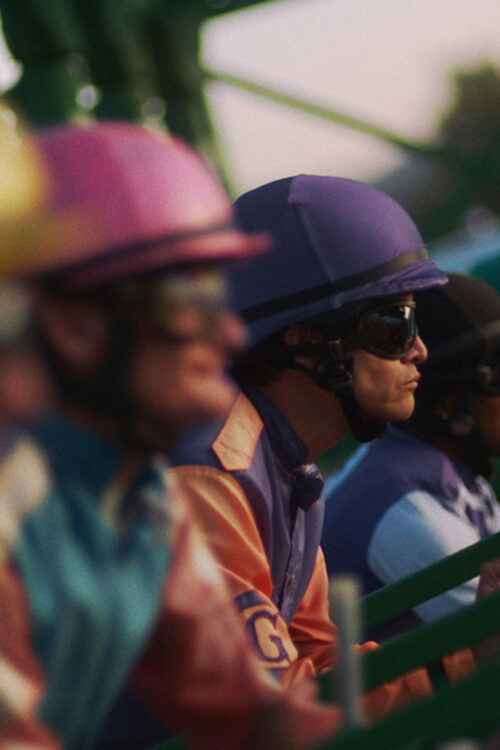 Jockey
A Film by Clint Bentley
2021 - USA - Drama - 2.39 - 95 min.
with Clifton Collins Jr. , Molly Parker & Moises Arias
Language: English
Produced by Clint Bentley , Greg Kwedar & Nancy Schafer
Seasoned horse jockey Jackson (Clifton Collins Jr.) has weathered decades of races on the riding circuit, but he now finds himself facing what could be his last season as his health deteriorates. With the help of Ruth (Molly Parker) and a promising new horse, Jackson starts to prepare for the upcoming championship. His plans take a left turn when a budding young jockey (Moisés Arias) shows up and claims to be his son. Caught between yearning for a connection and uncertainty about his own future, Jackson confronts difficult questions regarding his legacy.
Sundance 2021
US Dramatic Competition
Sundance 2021
Best Actor
More Films
A film by Pascal Rabaté
2020 - France - Burlesque - 1.85 - 85 min.
A small clan lives in the underworld of a rubbish dump. They recycle the waste they find or steal, in order to cobble their home together. Life there could be so sweet, were it not for a chief inspector hot on their heels.
A film by Wayne Blair
2019 - Australia - Romantic Comedy - 1.85 - 103 min.
Engaged and in love Lauren and Ned have just 10 days to reunite her newly separated parents and pull off their dream Top End Wedding. But Lauren's mother has gone missing, experiencing a midlife crisis. In order to find her, the couple goes on a fantastic road trip across northern Australia. Along the way they find fulfillment for their own personal journeys through the wild beauty of the landscapes and the unbeatable charm of the characters that they meet along the way. But will they finally recover Lauren's mother and pursue their dream wedding?
A film by Denis Côté
2013 - Canada - Drama - DCP - 1.85 - 95 min.
Victoria, an ex-convict in her sixties, wants to start new life in a remote sugar shack. Under the supervision of Guillaume, a young, sympathetic parole officer, she tries to get her life back on track along with Florence, her former cellmate with whom she shared years of
intimacy in prison. Stalked by ghosts of the past, their new life together is unexpectedly jeopardized.