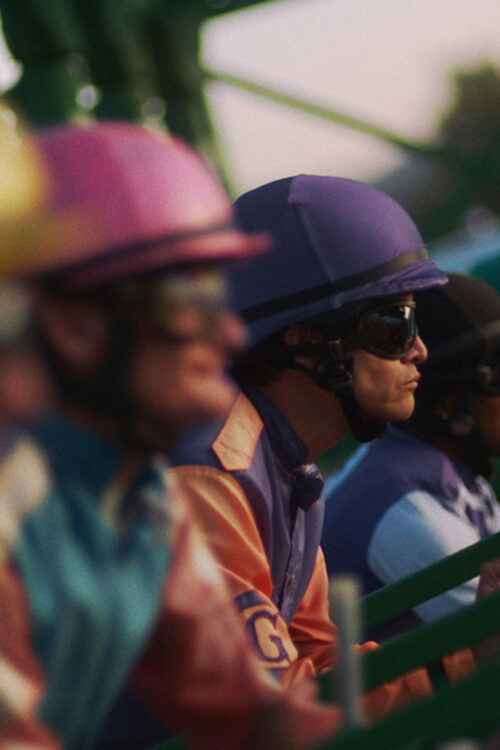 Jockey
A Film by Clint Bentley
2021 - USA - Drama - 2.39 - 95 min.
with Clifton Collins Jr. , Molly Parker & Moises Arias
Language: English
Produced by Clint Bentley , Greg Kwedar & Nancy Schafer
Seasoned horse jockey Jackson (Clifton Collins Jr.) has weathered decades of races on the riding circuit, but he now finds himself facing what could be his last season as his health deteriorates. With the help of Ruth (Molly Parker) and a promising new horse, Jackson starts to prepare for the upcoming championship. His plans take a left turn when a budding young jockey (Moisés Arias) shows up and claims to be his son. Caught between yearning for a connection and uncertainty about his own future, Jackson confronts difficult questions regarding his legacy.
Sundance 2021
US Dramatic Competition
Sundance 2021
Best Actor
More Films
A film by Claire Simon
2023 - France - Documentary - 1.85 - 168 min.
In a Parisian public hospital, Claire Simon questions what it means to live in women's bodies, filming their diversity, singularity and their beauty in all stages throughout life. Unique stories of desires, fears and struggles unfold, including the one of the filmmaker herself.
A film by Guy Édoin
2015 - Canada - Drama - DCP - 2.35 - 101 min.
While shooting a film in Montréal, a French actress tries to mend relations with her son, who has been living there for several years. Having witnessed a disturbing event that reawakened in him the desire to discover who his father is, he is determined to confront his mother to learn the answer. Elsewhere in the city, an ambulance driver tries to keep a hold on his life while a kind-hearted nurse watches over him, in the chaos of the emergency room. The collision of these four leaves their lives changed forever.
A film by Leonardo Medel
2020 - Chile - Drama - 1.85 - 100 min.
As the wife of a famous soccer player, Veronica has a bitter-sweet life: laying by the pool, attending photo-shootings, doing interviews for a book about herself but most importantly taking care of her Instagram account. In order to be the new face of a beauty campaign, she needs more than 2 million followers and LA VERONICA is ready to do whatever it takes to get them...