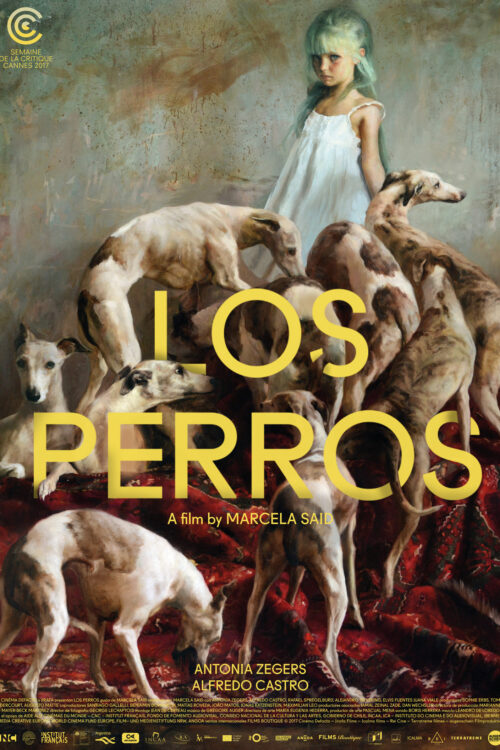 Los Perros
A Film by Marcela Said
2017 - France/Chile - Drama - 1.85 - 94 min.
with Antonia Zegers & Alfredo Castro
Language: Spanish
Produced by Tom DERCOURT , Sophie ERBS & Augusto MATTE
Mariana is 42 years old, a member of the Chilean upper class that takes privilege for granted. Scorned by her father and neglected by her husband, Mariana still has the means to occupy her days with fertility treatments, running an art gallery and learning to ride a horse. Her riding instructor, Juan, is 20 years her senior, a former cavalry officer known as The Colonel who is under investigation for human rights abuses committed decades before. When Mariana embarks on an affair with her enigmatic teacher, she's directly confronted with the outrages of the dictatorship for the first time and her increasing interest threatens to tear down the invisible walls protecting her family from the past.
Cannes Critics' Week
Competition
Karlovy Vary IFF
2017
More Films
A film by Jean-Marie Pallardy
1985 - France/Turkey/UK - Adventure/Action - 1.85 - 98 min.
When Bo was a child, a mysterious stranger sadistically murdered his parents. Only Bo and his sister, Ingrid survived the bloodshed. Now, twenty years later… Bo and his sister are grown up. They are employees at a diamond mineshaft located in the desert. As mischievous as they are, they stumble upon the discovery of a legendary diamond, the "White Fire." However, this rapture for the diamond has provoked the angst of some short-tempered, not-so-nice villains. The quest to capture the most sought-out diamond in the world is afoot…
A film by Eva Trobisch
2018 - Germany - Drama - 2.39 - 93 min.
"If you don't see any problems, you don't have any" is Janne's attitude regarding the fact that her new boss's brother-in-law has slept with her against her will. She keeps the incident under wraps and lets everything take its normal course. Her silence has consequences, though, and not just for her relationship with Piet.
A film by Angela Schanelec
2009 - France/Germany - Drama - 2.35 DCP - 84 min.
End of winter. Two hours at the Paris Orly Airport. A young woman (Natacha Régnier), on the way home to her husband falls for a stranger (Bruno Todeschini). A mother (Mireille Perrier) and her nearly grown son (Emile Berling) are traveling to the funeral of her exhusband, the boy's father. A young couple (Jirka Zett, Lina Falkner) on their first big trip abroad lose touch with each other. A woman (Maren Eggert) finally dares to read her husband's (Josse De Pauw) break-up letter in the soothing anonymity of public space. All wait for their planes. Completely absorbed in following their immediate fates, they move through the impeccably structured and functional building, unaware of a looming threat outside that will result in the airport's imminent evacuation.