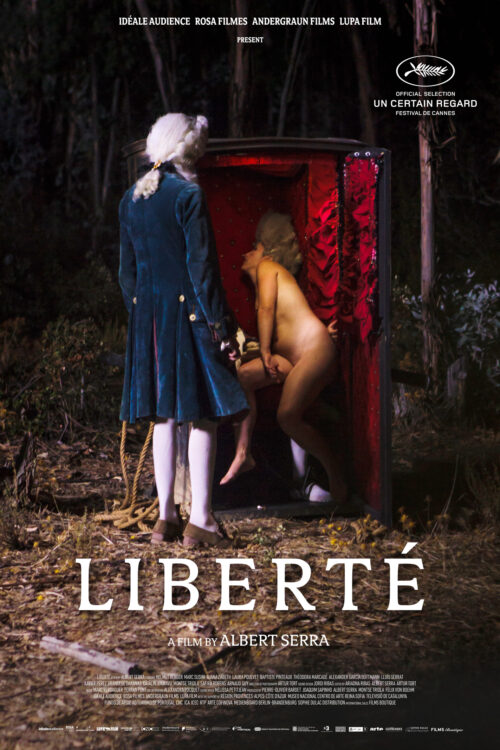 Liberté
A Film by Albert Serra
2019 - France/Portugal/Spain - Drama - 1.85 - 120 min.
with Helmut Berger , Marc Susini & Baptiste Pinteaux
Languages: French , German
Produced by Joaquim Sapinho , Pierre-Olivier Bardet , Albert Serra & Montse Triola
1774, shortly before the French Revolution, somewhere between Potsdam and Berlin. Madame de Dumeval, the Duc de Tesis and the Duc de Wand, libertines expelled from the puritanical court of Louis XVI, seek the support of the legendary Duc de Walchen, German seducer and freethinker, lonely in a country where hypocrisy and false virtue reign. Their mission is to export libertinage, a philosophy of enlightenment founded on the rejection of moral boundaries and authorities, but moreover to find a safe place to pursue their errant games, where the quest for pleasure no longer obeys laws other than those dictated by unfulfilled desires.
Cannes 2019
Un Certain Regard
Toronto IFF
2019
New York
Film Festival
More Films
A film by Danielle Arbid
2015 - France - Drama - 1.85 DCP - 119 min.
The 90's. Lina, 18, arrives to Paris for her studies. She is looking for what she can't find in her home country Lebanon: a taste of freedom. Lead by her natural instinct for self-preservation, she experiences different sides of the Parisian jungle and becomes conscious of her own place. Because when you are 18, your dream is to embrace the world - not just one boy...
A film by Maha Haj
2016 - Israel - Comedy/Drama - 1.85 - 90 min.
In Nazareth, an old couple lives wearily to the rhythm of the daily routine. On the other side of the border, in Ramallah, their son Tarek wishes to remain an eternal bachelor, their daughter is about to give birth while her husband lands a movie role and the grandmother loses her head ... Between check-points and dreams, frivolity and politics, some want to leave, others want to stay but all have personal affairs to resolve.
A film by Geoffrey Enthoven
2014 - Belgium - Comedy - DCP - 2.35 - 115 min.
Involved in a bitter divorce Stephen moves into a new house. Soon his quiet is disturbed by Theo who is standing in his living room claiming to be the rightful resident of the house and asking him to move out. Unwilling to yield, Stephen finds himself in the midst of a turf war and discovers that Theo used to be the owner of the house. But he died two years ago...