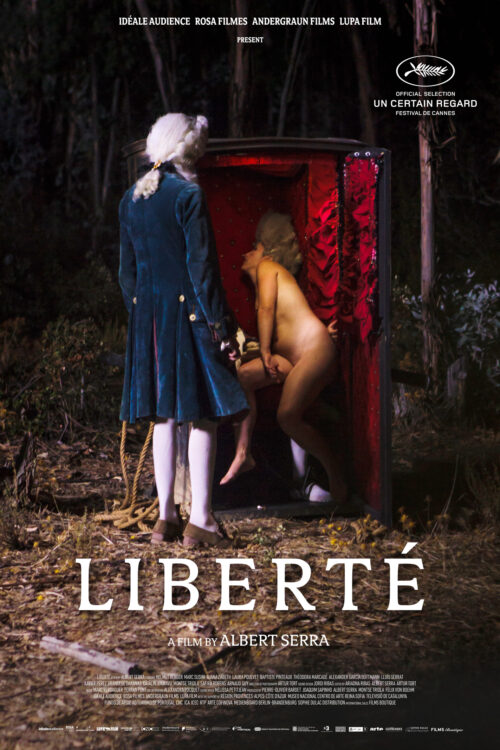 Liberté
A Film by Albert Serra
2019 - France/Portugal/Spain - Drama - 1.85 - 120 min.
with Helmut Berger , Marc Susini & Baptiste Pinteaux
Languages: French , German
Produced by Joaquim Sapinho , Pierre-Olivier Bardet , Albert Serra & Montse Triola
1774, shortly before the French Revolution, somewhere between Potsdam and Berlin. Madame de Dumeval, the Duc de Tesis and the Duc de Wand, libertines expelled from the puritanical court of Louis XVI, seek the support of the legendary Duc de Walchen, German seducer and freethinker, lonely in a country where hypocrisy and false virtue reign. Their mission is to export libertinage, a philosophy of enlightenment founded on the rejection of moral boundaries and authorities, but moreover to find a safe place to pursue their errant games, where the quest for pleasure no longer obeys laws other than those dictated by unfulfilled desires.
Cannes 2019
Un Certain Regard
Toronto IFF
2019
New York
Film Festival
More Films
A film by Duccio Chiarini
2014 - Italy - Comedy/Drama - 1.85 DCP - 86 min.
It's summer and everybody seems to talk only about sex. Edoardo is insecure and awkward with girls: he never told anybody even his best friend Arturo that since birth his foreskin is too narrow preventing him from having sex. But when you are 17, love is in the air: Edoardo will have to find his way.
A film by Denis Côté
2017 - Canada - Documentary - 1.85 - 94 min.
Jean-François, Ronald, Alexis, Cédric, Benoit and Maxim are modern-day gladiators. The group includes high-level bodybuilders, a strongman and an ex-champion-turned-trainer. As they prepare for future competitions, they follow extreme diets and slave away at the gym. Each man pursues his own personal goals, but all share the same obsession: overcoming the limits of their bodies. A Skin So Soft is an open exploration of the regimented daily lives of these misunderstood monsters.
A film by SABU
2015 - Japan - Drama/Fantasy - 2.35 DCP - 106 min.
In Heaven, scribes are busy writing scenarios for all of mankind, dictating everyone's upcoming destiny. Celestial tea server Chasuke never misses a chance to catch up on some of the latest chapters, especially those about Yuri, for whom he has a secret crush. But when he discovers that the writers accidentally kill her off, he decides to break the rules and go down to Earth to save her. But nothing goes according to plan, since nothing has been prewritten for him…