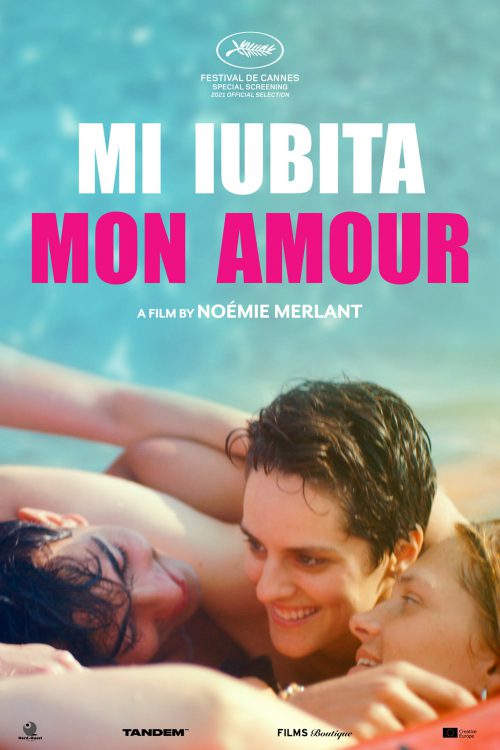 Mi iubita, mon amour
A Film by Noemie Merlant
2021 - France - Drama - 1.85 - 95 min.
with Noemie Merlant , Gimi Covaci & Clara Lama-Schmit
Languages: French , English
Produced by Pierre Guyard
Jeanne is traveling to Romania to celebrate her bachelorette party with her friends when she meets Nino and his family. They are worlds away from one another, yet for the two of them it is the beginning of a passionate and timeless summer.
Cannes 2021
Special Screening
San Sebastian IFF
Official Selection
Denver IFF
Official Competition
Supported by:

More Films
A film by Mirjana Karanovic
2016 - Croatia/Serbia/Bosnia - Drama - 2.35 - 94 min.
Milena, a middle-aged wife and mother, is living comfortably in an upscale neighborhood of Belgrade. She quietly tends to her looks, dutifully cooks and entertains her friends. But unsettling realities are beginning to seep into her when she finds out about the hidden past of her seemingly ideal husband. She begins an awakening from the suburban paradise she had thought to live in.
A film by Marc Bauder
2021 - Germany - Documentary - 2.39 - 114 min.
WHO WE WERE observes the current state of the world, accompanied by six intellectuals and scientists who reflect on the present and postulate about the future. Director Marc Bauder follows his interviewees into the depths of the ocean, to the top of the world, and out into the far reaches of space. Together, they explore the incredible capabilities of the human brain, a global economic summit, the legacy of colonisation, and the feelings of a robot.
A film by Ciro Guerra & Cristina Gallego
2018 - France/Colombia/Denmark/Mexico - Drama - 35mm - 120 min.
In the 70s, as the american youth embraces hippie culture, marijuana bonanza hits Colombia, quickly turning farmers into seasoned businessmen. In the Guajira desert, a Wayuu indigenous family takes a leading role in this new venture, and discovers the perks of wealth and power. But when greed, passion, and honour blend together, a fratricidal war breaks out and will soon put their family, their lives and their ancestral traditions at stake.