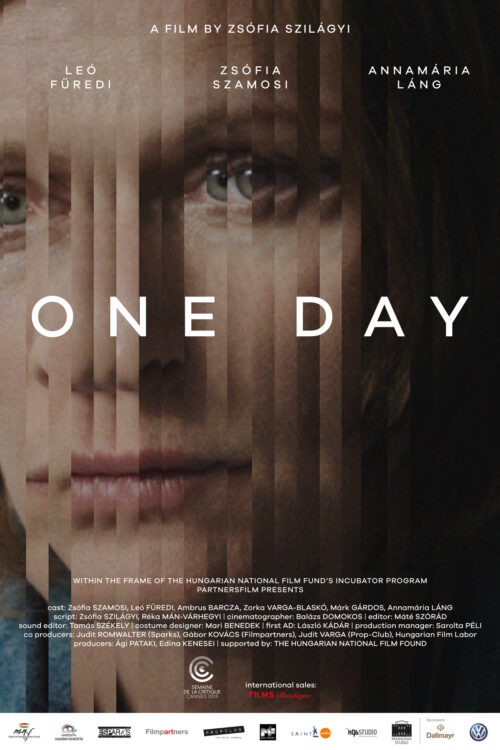 One Day
A Film by Zsofia Szilagyi
2018 - Hungary - Drama - 2.39 - 99 min.
with Zsófia Szamosi & Leo Füredi
Language: Hungarian
Produced by Agi Pataki & Edina Kenesei
Anna is 40. She is always in a rush. She has three children, a husband, a job and financial stress. Anna meets deadlines, makes promises, takes care of things, brings stuff home and remembers everything. But she never catches up with her husband. She'd like to talk to him. She feels she is losing him. And she feels she can't always evade what comes next. A clash between the everyday, the unbearably monotonous and the fragile and unique.
Cannes 2018
Critics' Week Competition
FIPRESCI AWARD
Cannes 2018
More Films
A film by Pascal Rabaté
2014 - France - Comedy/Drama - 2.35 DCP - 92 min.
Christian is a divorced father who can only see his young daughter Vanessa every other weekend. When he meets the single mother Christine and decides to participate in a summer TV show, his whole life is turned upside down.
A film by Jason Buxton
2012 - Canada - Drama - DCP - 1.85 - 103 min.
A rebellious teenager, falsely accused of planning a school massacre, must survive a harrowing conflict
with a prison gang leader while he attempts to prove his innocence to the community and those close to
him.
A film by Halina Reijn
2019 - Netherlands - Drama/Thriller - 2.35 - 98 min.
Nicoline, an experienced psychologist, starts a new job at a penal institution. She meets Idris, a sex offender who committed a series of grave crimes. After five years of treatment, he is about to go on his first unaccompanied probation. His team of practitioners are enthusiastic about his development but newcomer Nicoline does not trust him and tries to push his probation. Idris tries his hardest to convince Nicoline of his good intentions, but slowly but surely, he transforms into the manipulative man she saw in him from the beginning. A power play emerges between the two and Nicoline, in spite of her knowledge and experience, lets herself be trapped completely.