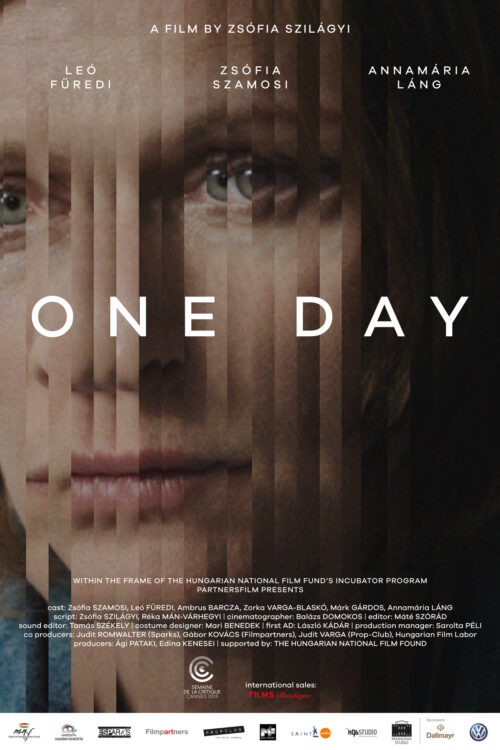 One Day
A Film by Zsofia Szilagyi
2018 - Hungary - Drama - 2.39 - 99 min.
with Zsófia Szamosi & Leo Füredi
Language: Hungarian
Produced by Agi Pataki & Edina Kenesei
Anna is 40. She is always in a rush. She has three children, a husband, a job and financial stress. Anna meets deadlines, makes promises, takes care of things, brings stuff home and remembers everything. But she never catches up with her husband. She'd like to talk to him. She feels she is losing him. And she feels she can't always evade what comes next. A clash between the everyday, the unbearably monotonous and the fragile and unique.
Cannes 2018
Critics' Week Competition
FIPRESCI AWARD
Cannes 2018
More Films
A film by Markus Imhoof
2018 - Germany/Switzerland - Documentary - 1.85 - 92 min.
In the lean years of WW II, the family of Swiss director Markus Imhoof took in Giovanna, an Italian refugee part of a limited-term program for children. When her stay ended, Giovanna was forced to return to Italy, where she died of illness soon after. With this early experience as a point of entry to the ongoing refugee crisis, Imhoof takes us on a journey with extraordinary access through the Italian warships of Operation Mare Nostrum, refugee camps handled by the Italian Mafia, asylum hearings with local authorities, all designed to turn back refugees at all levels. What emerges is a stark picture of a human tragedy and the biggest mass displacement of people since World War II.
A film by Oleg Novković
2010 - Serbia - Drama - 2.35 DCP - 121 min.
In the town of Bor, a rotten mining center in southeast Serbia, lives King, a lonesome cowboy of about 40, a former miner, now a local bar owner. Once he was involved with Ruzica, the town beauty and wife of his boxing coach Zivina. When Zivina found out about the affair Ruzica killed him. After seven years in jail Ruzica comes back to Bor. She goes to see King, only to find out that he is involved with another woman. Her daughter Rosa.
A film by Johnny Ma
2019 - France/China - Drama - 1.78 - 100 min.
Zhao Li is the manager of a small Sichuan Opera troupe, living and performing together in a rundown theatre located in the outskirts of Chengdu, China. When she receives the notice of demolition for the theatre, Zhao Li hides the news from everyone else, fearing that this could spell the end of her opera troupe: besides demolition, it's the life of her "family" that is at stake. As she struggles to search for a new theatre for them to both sing and live in, the opera and its fantastic characters slowly begin to seep into her real world...