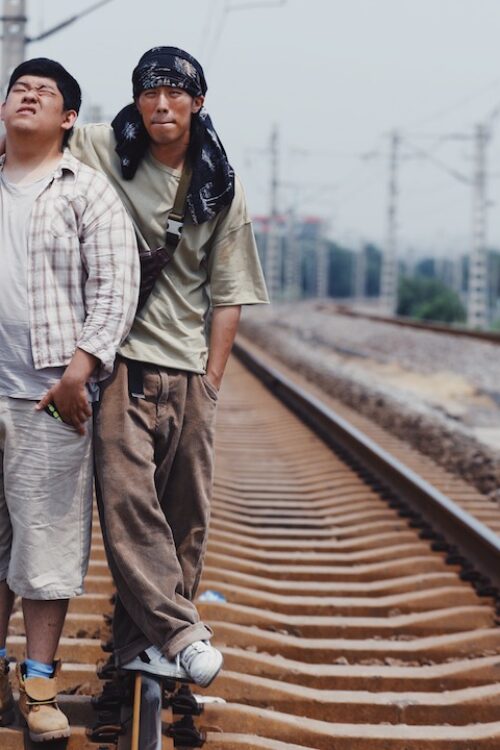 Striding into the wind
A Film by Shujun Wei
2020 - China - Roadmovie - 1.85
with You Zhou , Xiaomu Wang & Ying Chen Zheng
Language: Mandarin
Produced by Liu Qingling
Kun seems to be messing up pretty much everything: his senior year at Film school, the job on his friend's graduation's film and the relationship with his girlfriend. But Kun just got his driving license and with it, the cheapest second-hand car he could find: an old wreck of a Jeep Cherokee that might turn out to be the key to his wildest dreams.
Cannes 2020
Official Selection
Busan IFF
2020
London BFI
2020
Chicago IFF
2020
More Films
A film by Guy Édoin
2015 - Canada - Drama - DCP - 2.35 - 101 min.
While shooting a film in Montréal, a French actress tries to mend relations with her son, who has been living there for several years. Having witnessed a disturbing event that reawakened in him the desire to discover who his father is, he is determined to confront his mother to learn the answer. Elsewhere in the city, an ambulance driver tries to keep a hold on his life while a kind-hearted nurse watches over him, in the chaos of the emergency room. The collision of these four leaves their lives changed forever.
A film by Marcel Gisler
2018 - Switzerland - Drama - 1.85 - 119 min.
There's a ripple of disquiet in the locker-room when Leon, a new striker, joins the football team. Sharing a flat with keen rival Mario sets the scene for an unexpected love affair, but the path of gay love in this macho world is not an easy one. Mario is unwilling or unable to acknowledge the implications of what is happening. But pretend girlfriends don't fool everyone. And gossip, along with the threat of blackmail, unbalances the team's morale. With the prospect of a professional career a strong possibility, will Mario forsake the hope of emotional satisfaction for professional gain?
A film by Pascal Rabaté
2011 - France - Comedy - 2.35 DCP - 80 min.
One spring weekend on the Atlantic coast, two pensioners on their way to their second home — a maisonette no bigger than a postage stamp — cross paths with a couple of punks whose vacation residence is a house drawn in the sand. At the hotel, the lives of both couples are turned upside down by a lost kite. It is a weekend marked by the meeting of destinies, social classes, generations, and feelings of grief and of joy. A real weekend by the sea.