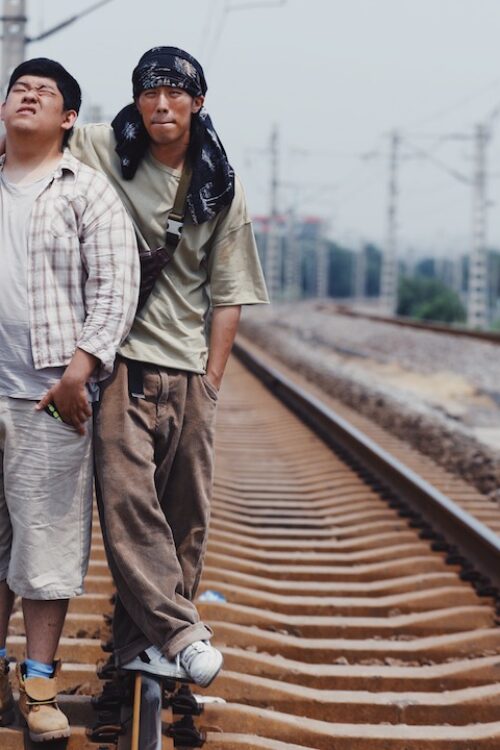 Striding into the wind
A Film by Shujun Wei
2020 - China - Roadmovie - 1.85
with You Zhou , Xiaomu Wang & Ying Chen Zheng
Language: Mandarin
Produced by Liu Qingling
Kun seems to be messing up pretty much everything: his senior year at Film school, the job on his friend's graduation's film and the relationship with his girlfriend. But Kun just got his driving license and with it, the cheapest second-hand car he could find: an old wreck of a Jeep Cherokee that might turn out to be the key to his wildest dreams.
Cannes 2020
Official Selection
Busan IFF
2020
London BFI
2020
Chicago IFF
2020
More Films
A film by Ciro Guerra & Cristina Gallego
2018 - France/Colombia/Denmark/Mexico - Drama - 35mm - 120 min.
In the 70s, as the american youth embraces hippie culture, marijuana bonanza hits Colombia, quickly turning farmers into seasoned businessmen. In the Guajira desert, a Wayuu indigenous family takes a leading role in this new venture, and discovers the perks of wealth and power. But when greed, passion, and honour blend together, a fratricidal war breaks out and will soon put their family, their lives and their ancestral traditions at stake.
A film by Eva Trobisch
2018 - Germany - Drama - 2.39 - 93 min.
"If you don't see any problems, you don't have any" is Janne's attitude regarding the fact that her new boss's brother-in-law has slept with her against her will. She keeps the incident under wraps and lets everything take its normal course. Her silence has consequences, though, and not just for her relationship with Piet.
A film by Ilian Metev
2012 - Bulgaria/Croatia/Germany - Documentary - DCP - 1.85 - 76 min.
Sofia, Bulgaria. In a city where only 13 ambulances struggle to serve 2 million people, three paramedics face Kafkaesque situations. Struggling against an avalanche of absurdities in a crumbling medical system, they do what they do best: save lives.