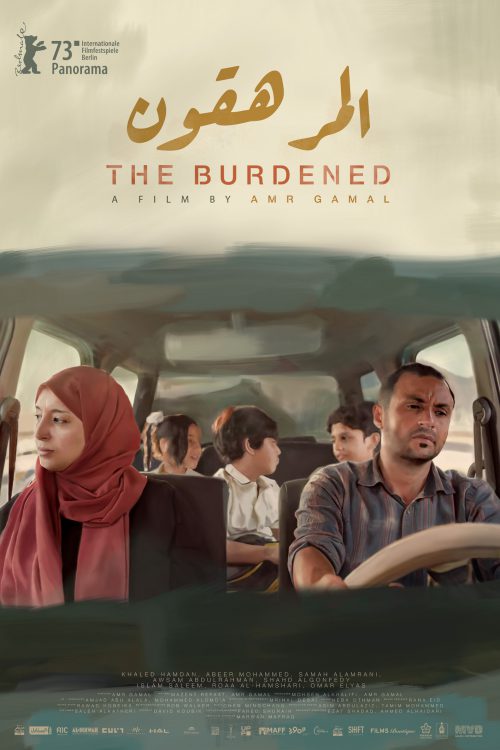 The Burdened
A Film by Amr Gamal
2023 - Yemen/Sudan/Saudi Arabia - Drama - 1.85 - 90 min.
with Khaled Hamdan , Abeer Mohammed , Samah Alamrani & Awsam Abdulrahman
Language: Arabic
Produced by Mohsen Alkhalifi & Amr Gamal
Aden, Yemen. Isra'a and Ahmed put all their efforts offering a normal life and education to their three young children. When they find out that Isra'a is pregnant again, they have to make difficult decisions guided only by their family's interest.
In Collections:
Berlinale 2023
Panorama
Amnesty International Film Award
Berlinale 2023
2nd Audience Award
Berlinale 2023
More Films
A film by SABU
2015 - Japan - Drama/Fantasy - 2.35 DCP - 106 min.
In Heaven, scribes are busy writing scenarios for all of mankind, dictating everyone's upcoming destiny. Celestial tea server Chasuke never misses a chance to catch up on some of the latest chapters, especially those about Yuri, for whom he has a secret crush. But when he discovers that the writers accidentally kill her off, he decides to break the rules and go down to Earth to save her. But nothing goes according to plan, since nothing has been prewritten for him…
A film by Andrzej Wajda
2013 - Poland - Drama - DCP - 2.35 - 118 min.
The New Europe has its beginnings in Gdansk! "Wałęsa. Man of Hope" is a story of a contemporary hero – Lech Wałęsa.
Comprame Un Revolver (buy Me A Gun)
A film by Julio Hernández Cordón
2018 - Colombia/Mexico - Drama - 2.35 - 84 min.
México, sometime in a near future... Women are disappearing and a girl called Huck wears a mask to hide her gender. She helps her dad, a tormented addict, to take care of an abandoned baseball camp where the narcos gather to play. The father tries to protect her as he can. With the help of her friends, a group of lost boys who have the power of camouflaging themselves in the windy desert, Huck has to fight to overcome her reality and to defeat the local capo.