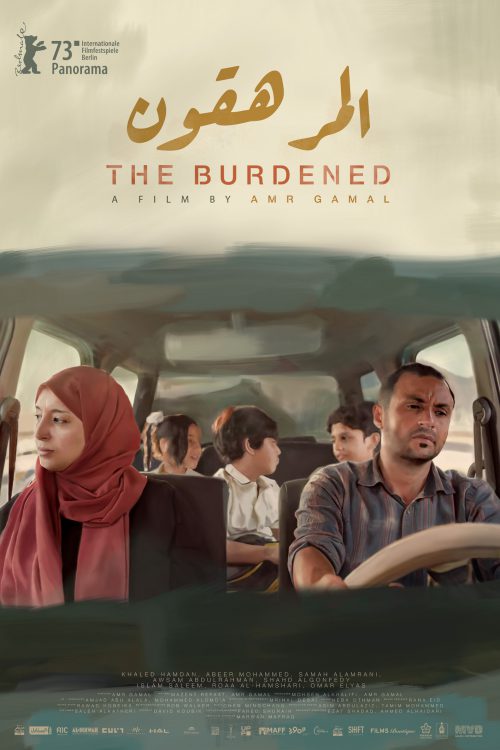 The Burdened
A Film by Amr Gamal
2023 - Yemen/Sudan/Saudi Arabia - Drama - 1.85 - 90 min.
with Khaled Hamdan , Abeer Mohammed , Samah Alamrani & Awsam Abdulrahman
Language: Arabic
Produced by Mohsen Alkhalifi & Amr Gamal
Aden, Yemen. Isra'a and Ahmed put all their efforts offering a normal life and education to their three young children. When they find out that Isra'a is pregnant again, they have to make difficult decisions guided only by their family's interest.
In Collections:
Berlinale 2023
Panorama
Amnesty International Film Award
Berlinale 2023
2nd Audience Award
Berlinale 2023
More Films
A film by Alexey German Jr.
2015 - Russia / Ukraine / Poland - Drama - DCP - 2.35 - 137 min.
Russia, 2017. The world is on the verge of a great war. Evolving around an unfinished building, people struggle to find their place in this collapsing society, making up the mosaic of existence that is life itself.
A film by Marcel Gisler
2018 - Switzerland - Drama - 1.85 - 119 min.
There's a ripple of disquiet in the locker-room when Leon, a new striker, joins the football team. Sharing a flat with keen rival Mario sets the scene for an unexpected love affair, but the path of gay love in this macho world is not an easy one. Mario is unwilling or unable to acknowledge the implications of what is happening. But pretend girlfriends don't fool everyone. And gossip, along with the threat of blackmail, unbalances the team's morale. With the prospect of a professional career a strong possibility, will Mario forsake the hope of emotional satisfaction for professional gain?
A film by Albert Serra
2022 - Spain/France/Portugal/Germany - Drama/Thriller - 2.39:1 - 162 min.
On the French Polynesian island of Tahiti, the High Commissioner of the Republic and French government official DE ROLLER is a calculating man with flawless manners. His somewhat broad perception of his role brings him to navigate the high end 'establishment' as well as shady venues where he mingles with the locals. Especially since a persistent rumor has been going around: the sighting of a submarine whose ghostly presence could herald the return of French nuclear testing.