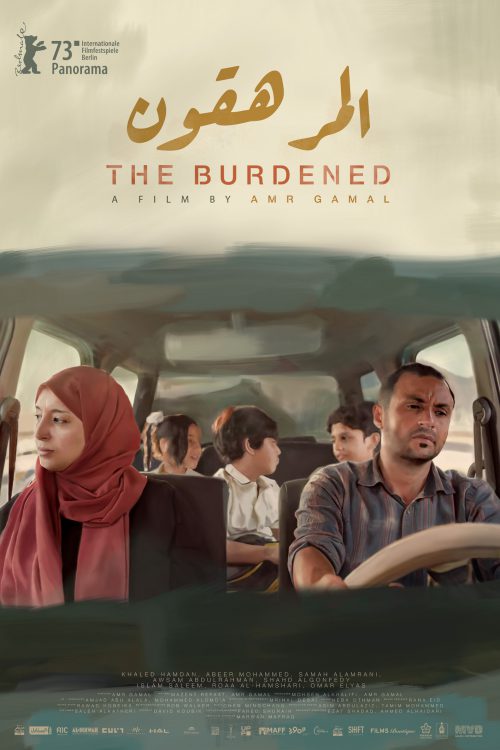 The Burdened
A Film by Amr Gamal
2023 - Yemen/Sudan/Saudi Arabia - Drama - 1.85 - 90 min.
with Khaled Hamdan , Abeer Mohammed , Samah Alamrani & Awsam Abdulrahman
Language: Arabic
Produced by Mohsen Alkhalifi & Amr Gamal
Aden, Yemen. Isra'a and Ahmed put all their efforts offering a normal life and education to their three young children. When they find out that Isra'a is pregnant again, they have to make difficult decisions guided only by their family's interest.
In Collections:
Berlinale 2023
Panorama
Amnesty International Film Award
Berlinale 2023
2nd Audience Award
Berlinale 2023
More Films
A film by Mourad Ben Cheikh
2011 - Tunisia - Documentary - 1.85 DCP - 74 min.
After the self-immolation of a street seller, the people of Tunisia started a revolution that would give an end to 24 years of dictatorship of President Ben Ali and gave birth to the Arab Spring Revolutions. It was not a Jasmine revolution as Jasmine does not result in death - rather the cry of despair rising from a generation of graduates. We shall never again have any fear for this new Tunisia. This film is a testimony and a tribute to the people of Tunisia.
A film by Bretten Hannam
2021 - Canada - Drama - 2.39 - 108 min.
When Link discovers his Mi'kmaw mother is still alive, he runs away from home with his younger brother Travis, in a desperate gamble to start a new life. They're soon joined by Pasmay, a pow wow dancer drawn to Link's story. Together they embark on a Two-Spirit odyssey, reconnecting with culture and the territory of Mi'kma'ki in Nova Scotia, Canada, while trying to find Link's mother, Sarah.
Lunana: A Yak In The Classroom
A film by Pawo Choyning Dorji
2019 - Bhutan - Drama/Family - 2.35 - 109 min.
Struggling with his profession as a teacher, Ugyen is sent to Lunana in northern Bhutan for his final year of training. The high altitude and the lack of amenities make Ugyen want to leave as soon as he arrives. With a warm welcome the local children try to win him over but they don't have much time as the harsh winter is about to arrive in the glacial parts of the Himalaya…