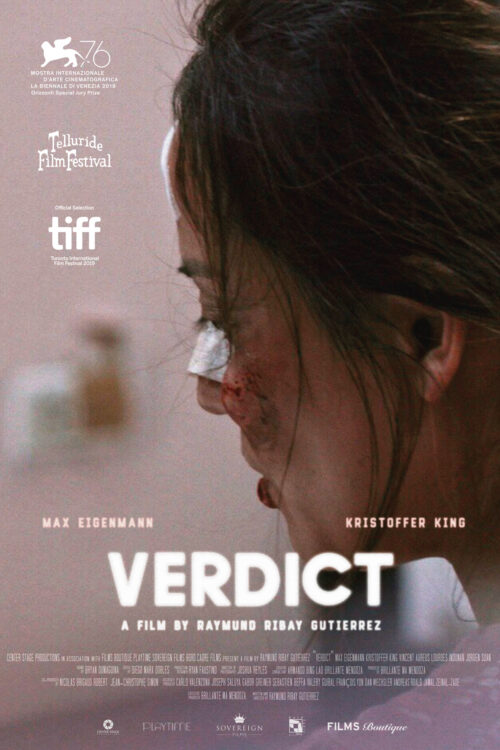 Verdict
A Film by Raymund Ribay Gutierrez
2019 - France/Philippines - Drama - 1.78 - 126 min.
with Max Eigenmann & Kristoffer King
Language: Filipino
Produced by Brillante Ma Mendoza
Joy and her six-year-old daughter Angel live in Manila, with her husband, Dante, a small-time criminal. As so often in the past, Dante comes home drunk at night and beats Joy brutally. This time, he also hurts Angel. Joy grabs her daughter and flees to the local police post to finally get him sent to jail. Joy learns that justice takes time at best and is impossible to get at worst. Not without reason, she feels that she and her daughter are increasingly under threat…
Venice
Orizzonti
Toronto IFF
2019
Telluride FF
2019
Busan IFF
2019
More Films
A film by Levan Koguashvili
2013 - Georgia - Comedy/Drama - DCP 1.85 - 99 min.
Sandro, a single high school teacher in his forties, still lives with his parents. Together with his childhood friend Iva they spend their leisure time dating women online. While these rendez-vous usually end up without any results, everything changes when Sandro meets the married Manana who quickly conquers his heart. Everything goes well until her husband gets out of jail.
A film by Lav Diaz
2018 - Philippines - Drama - 1.50 - 234 min.
In the late 70s, a gang of militias under the control of the military, terrorizes a remote village in the Philippines. The poet/teacher/activist, Hugo Haniway, decides to find out the truth about the disappearance of his wife. A love story set in the darkest period of Philippine history, the Marcos Dictatorship.
Based on real events and real characters.
A film by Elisabeth Vogler
2021 - France - Drama - 1.85 - 90 min.
On one beautiful afternoon in Paris during the surreal summer of 2020, 24 different characters roam the streets of the city with a sense of giddy abandon after a spring of lockdown and confinement. Creatively and meticulously choreographed by director Elisabeth Vogler, and shot in one continuous take through many neighbourhoods, a "Slacker" for our new decade; a series of local vignettes that help bring to full life a dynamic city and its young people who can find joy even in crisis. Filming began one day after the lockdown ended, allowing the audience to accompany everyday people as they cross paths throughout the day, experiencing their long-awaited freedom and celebrating the City of Love.