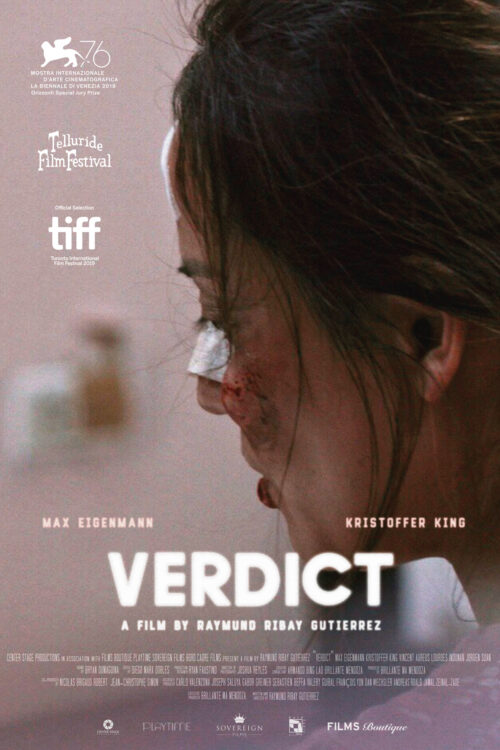 Verdict
A Film by Raymund Ribay Gutierrez
2019 - France/Philippines - Drama - 1.78 - 126 min.
with Max Eigenmann & Kristoffer King
Language: Filipino
Produced by Brillante Ma Mendoza
Joy and her six-year-old daughter Angel live in Manila, with her husband, Dante, a small-time criminal. As so often in the past, Dante comes home drunk at night and beats Joy brutally. This time, he also hurts Angel. Joy grabs her daughter and flees to the local police post to finally get him sent to jail. Joy learns that justice takes time at best and is impossible to get at worst. Not without reason, she feels that she and her daughter are increasingly under threat…
Venice
Orizzonti
Toronto IFF
2019
Telluride FF
2019
Busan IFF
2019
More Films
A film by Anne Linsel
2009 - Germany - Documentary - 1.85 DCP - 89 min.
The dance performance "Kontakthof" bears the unmistakable signature of Pina Bausch: it deals with forms of human contact, the encounters between the sexes, and the search for love and tenderness with all the attendant anxieties, yearnings and doubts. It is about feelings, which pose a big challenge, particularly for young people. For almost a year teenagers from over eleven schools in Wuppertal went on an emotional journey. Every Saturday, 40 students, aged between 14 to 18 years, rehearsed under the direction of the Bausch-dancers Jo-Ann Endicott and Bénédicte Billiet and under the intense supervision of Pina Bausch herself. The film "Dancing Dreams" by Anne Linsel and Rainer Hoffmann accompanies the rehearsal process culminating in the opening night. We watch the teenagers making their first, still clumsy attempts to transform the subjects of the dance performance into motion and choreography and to develop an own, individual body expression. They discover themselves in a process, which leads great personal growth. Gentle and shy but also aggressive contacts condensate to individual experiences that many of the teenagers encounter for the first time on stage. Pina Bausch has always encouraged the young dancers "to be themselves." It is behind their own movements, fears, feelings and desires that their personal "Dancing Dreams" become visible. At the end each of them has not only grown up, but above all has become more self-confident, independent and more sceptical facing prejudices. Employing an unusual adjacency, the film introduces the young protagonists in sensitive ways, it culminates in drawing a portrait of an entire generation. Pina Bausch died on June 30th, 2009. "Dancing Dreams – teenagers perform "Kontakthof" by Pina Bausch" shows the last motion pictures and the last interview with the world-famous dancer and choreographer.
A film by Shujun Wei
2020 - China - Roadmovie - 1.85
Kun seems to be messing up pretty much everything: his senior year at Film school, the job on his friend's graduation's film and the relationship with his girlfriend. But Kun just got his driving license and with it, the cheapest second-hand car he could find: an old wreck of a Jeep Cherokee that might turn out to be the key to his wildest dreams.
A film by Lav Diaz
2018 - Philippines - Drama - 1.50 - 234 min.
In the late 70s, a gang of militias under the control of the military, terrorizes a remote village in the Philippines. The poet/teacher/activist, Hugo Haniway, decides to find out the truth about the disappearance of his wife. A love story set in the darkest period of Philippine history, the Marcos Dictatorship.
Based on real events and real characters.