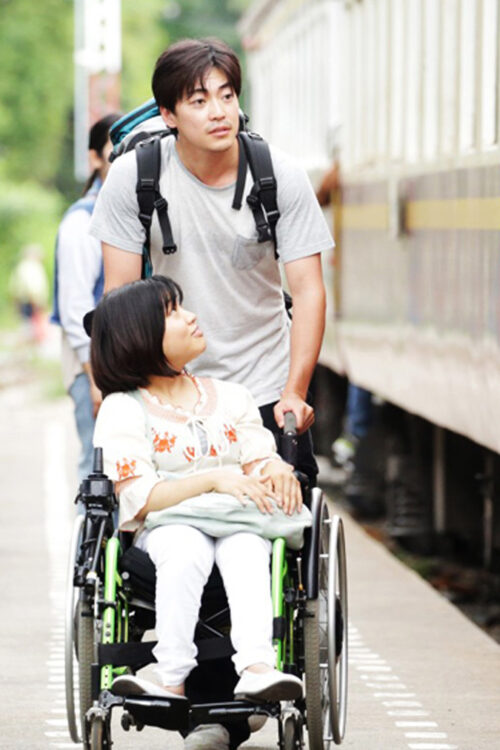 37 Seconds
A Film by Hikari
2019 - Japan - Drama - 1.85 - 115 min.
with Mei Kayama , Misuzu Kanno , Shunsuke Daitō , Makiko Watanabe & Minori Hagiwara
Language: Japanese
Produced by Shin Yamaguchi & Hikari
23-year-old comic book artist Yuma is disabled both by profound cerebral palsy and her mother's belief that she is incapable of being independent. Now she discovers her sexuality, the true meaning of love and forgiveness.
Berlinale 2019
Panorama
Berlinale 2019
Audience Award
Berlinale 2019
CICAE Art Award
Tribeca IFF
Toronto IFF
2019
More Films
A film by Leandro Koch & Paloma Schachmann
2023 - Austria/Argentina - Docu-Fiction/Musical Roadmovie - 1.85 - 115 min.
Argentinian cameraman Leandro makes a living from filming Jewish weddings. At one of his jobs, he falls in love with Paloma, the clarinetist of the Klezmer band. To seduce her he pretends to be shooting a documentary film about traditional Yiddish folk music. What Leandro does not know is that his "fake" film project will take him on an unscripted journey throughout Eastern Europe in search of the last remaining Klezmer melodies.
A film by Calin Peter Netzer
2009 - Germany/Romania - Drama - 2.35 DCP - 105 min.
One day Ion, a 75-year-old Romanian man, accidentally receives a Medal of Honor for some "heroic" actions back in the WW2, times he barely remembers. The medal forces Ion to reconsider his whole life. Maybe he wasn't all the time a loser. Maybe his life has a meaning. Maybe he means something to his family.
A film by David Lambert
2012 - Belgium/Canada/France - Drama - DCP - 2.35 - 98 min.
Paulo, a young pianist living an ambivalent life with Anka, meets Ilir, a loner bass player.
It's love at first sight and they start living on love alone.
The day Paulo promises to love him for life, Ilir leaves town for a concert, and never comes back…