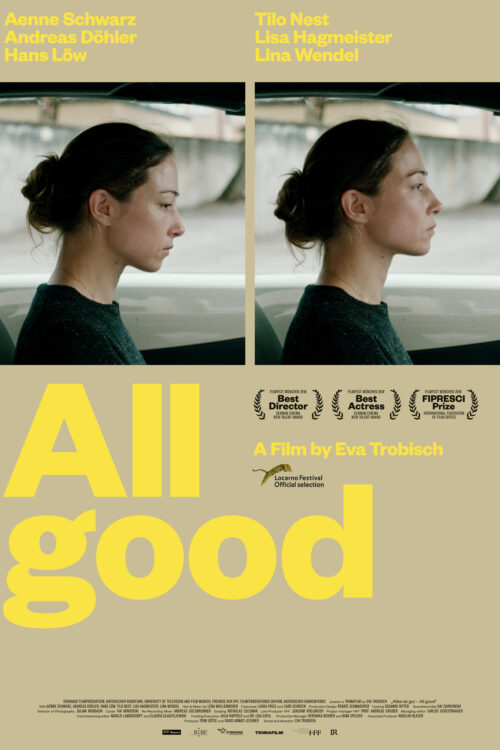 All Good
A Film by Eva Trobisch
2018 - Germany - Drama - 2.39 - 93 min.
with Aenne Schwarz , Andreas Döhler , Hans Löw & Tilo Nest
Language: German
Produced by Trini Götze & David Armati Lechner
"If you don't see any problems, you don't have any" is Janne's attitude regarding the fact that her new boss's brother-in-law has slept with her against her will. She keeps the incident under wraps and lets everything take its normal course. Her silence has consequences, though, and not just for her relationship with Piet.
Locarno 2018
Best First Feature
Munich IFF
Best Director
Munich IFF
Best Actress
Munich IFF
FIPRESCI Award
More Films
A film by Claire Simon
2023 - France - Documentary - 1.85 - 168 min.
In a Parisian public hospital, Claire Simon questions what it means to live in women's bodies, filming their diversity, singularity and their beauty in all stages throughout life. Unique stories of desires, fears and struggles unfold, including the one of the filmmaker herself.
A film by David Lambert
2012 - Belgium/Canada/France - Drama - DCP - 2.35 - 98 min.
Paulo, a young pianist living an ambivalent life with Anka, meets Ilir, a loner bass player.
It's love at first sight and they start living on love alone.
The day Paulo promises to love him for life, Ilir leaves town for a concert, and never comes back…
A film by Halina Reijn
2019 - Netherlands - Drama/Thriller - 2.35 - 98 min.
Nicoline, an experienced psychologist, starts a new job at a penal institution. She meets Idris, a sex offender who committed a series of grave crimes. After five years of treatment, he is about to go on his first unaccompanied probation. His team of practitioners are enthusiastic about his development but newcomer Nicoline does not trust him and tries to push his probation. Idris tries his hardest to convince Nicoline of his good intentions, but slowly but surely, he transforms into the manipulative man she saw in him from the beginning. A power play emerges between the two and Nicoline, in spite of her knowledge and experience, lets herself be trapped completely.