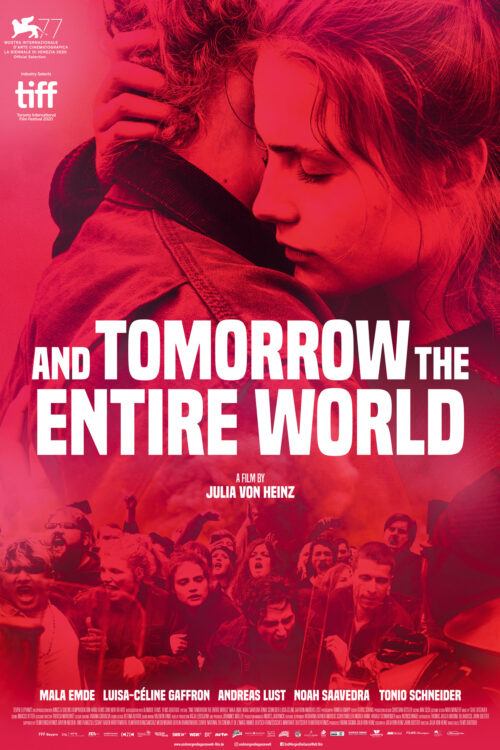 And tomorrow the entire world
A Film by Julia von Heinz
2020 - Germany - Drama - 2.39
with Mala Emde , Noah Saavedra & Tonio Schneider
Language: German
Produced by Fabian Gasmia
When Luisa leaves her wealthy parents to study law, her best friend introduces her to a rag-tag collective of Antifa activists drawn together by their will to fight for the cause and a disdain of conventions. In their mission to halt the continued rise of neo-Nazis across Germany, the group quickly comes to a crossroad: Does combatting hate justify violence? As Luisa struggles to understand whether her actions are motivated by personal allegiances or political convictions, she and the group must decide what to do when the ideological fight against fascism becomes concrete.
Venice 2020
Official Competition
Toronto IFF
Industry Selects
Best Actress
Bisato d'Oro Awards
Oscars 2021
German submission
German Film Awards 2021
Nomination Best Film
Supported by:

More Films
A film by Leonardo Medel
2020 - Chile - Drama - 1.85 - 100 min.
As the wife of a famous soccer player, Veronica has a bitter-sweet life: laying by the pool, attending photo-shootings, doing interviews for a book about herself but most importantly taking care of her Instagram account. In order to be the new face of a beauty campaign, she needs more than 2 million followers and LA VERONICA is ready to do whatever it takes to get them...
A film by Mirjana Karanovic
2016 - Croatia/Serbia/Bosnia - Drama - 2.35 - 94 min.
Milena, a middle-aged wife and mother, is living comfortably in an upscale neighborhood of Belgrade. She quietly tends to her looks, dutifully cooks and entertains her friends. But unsettling realities are beginning to seep into her when she finds out about the hidden past of her seemingly ideal husband. She begins an awakening from the suburban paradise she had thought to live in.
A film by Halina Reijn
2019 - Netherlands - Drama/Thriller - 2.35 - 98 min.
Nicoline, an experienced psychologist, starts a new job at a penal institution. She meets Idris, a sex offender who committed a series of grave crimes. After five years of treatment, he is about to go on his first unaccompanied probation. His team of practitioners are enthusiastic about his development but newcomer Nicoline does not trust him and tries to push his probation. Idris tries his hardest to convince Nicoline of his good intentions, but slowly but surely, he transforms into the manipulative man she saw in him from the beginning. A power play emerges between the two and Nicoline, in spite of her knowledge and experience, lets herself be trapped completely.