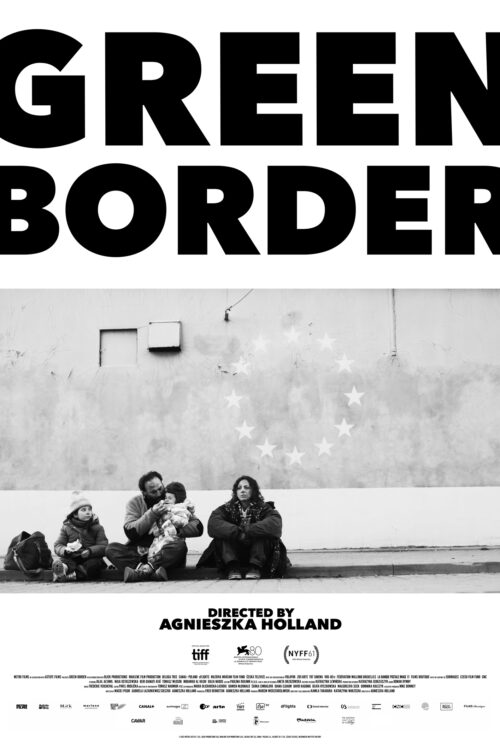 Green Border
A Film by Agnieszka Holland
2023 - Poland/France/Czech Republic/Belgium - Drama - 152 min.
with Jalal Altawil , Maja Ostaszewska , Behi Djanati Atai , Mohamad Al Rashi & Tomasz Włosok
In the treacherous and swampy forests that make up the so called "green border" between Belarus and Poland, refugees from the Middle East and Africa trying to reach the European Union are trapped in a geopolitical crisis cynically engineered by Belarusian dictator Alexander Lukashenko. In an attempt to provoke Europe, refugees are lured to the border by propaganda promising easy passage to the EU. Pawns in this hidden war, the lives of Julia, a newly minted activist who has given up her comfortable life, Jan, a young border guard, and a Syrian family intertwine.

30 years after EUROPA EUROPA, three-time Oscar Nominee Agnieszka Holland's poignant new feature GREEN BORDER opens our eyes, speaks to the heart, and challenges us to reflect on the moral choices that fall to ordinary people every day.
Venice 2023
Special Jury Prize
Toronto 2023
New York 2023
More Films
A film by Peter Kerekes
2021 - Slovakia - Documentary/Drama - 1.85 - 90 min.
Lesya has committed a crime of passion which brings her a seven-year sentence in one of Odessa's women's correctional facilities. She has just given birth to her first child, and now she is entering a world populated only by women: inmates, nurses and wardens, women of all ages, wives and widows, daughters, sisters, pregnant women, and women with children too. If not for the color of the uniform, it would sometimes be hard to tell who is who.
A film by Zhang Lu
2023 - China - Drama - 1.85:1 - 144 min.
Gu Wentong, a middle-aged food critic, is drifting through the local eateries of vibrant Beijing with his younger photographer colleague Oyang. A divorcé with a 6-year-old daughter and estranged from his father for decades, he is looking for a new perspective on life while reconsidering his failings as a father, a son, and a lover. While the seasons come and go, people get together and move apart. Only one thing will remain the same: The White Pagoda where they all meet sooner or later...
A film by Peter Greenaway
2015 - Netherlands/Mexico - Drama - DCP - 2.35 - 105 min.
In 1931, following the success of the film Battleship Potemkin, Soviet filmmaker Sergei Eisenstein travels to the city of Guanajuato, Mexico, to shoot a new film. Freshly rejected by Hollywood, Eisenstein soon falls under Mexico's spell. Chaperoned by his guide Palomino Cañedo, the director opens up to his suppressed fears as he embraces a new world of sensual pleasures and possibilities that will shape the future of his art.