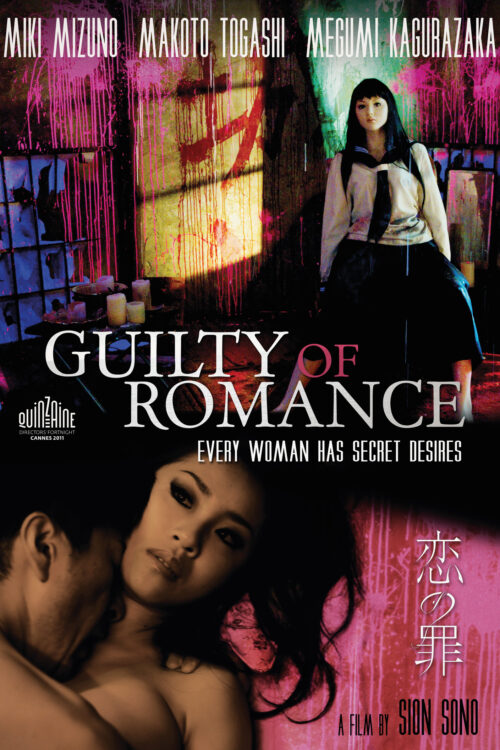 Guilty Of Romance
A Film by Sion Sono
2011 - Japan - Drama - 2.35 DCP - 149 min.
with Megumi Kagurazaka , Miki Mizuno , Makoto Togashi , Kanji Tsuda , Ryo Iwamatsu & Ryuju Kobayashi
Language: Japanese
Produced by Yoshinori Chiba & Nobuhiro Iizuka
Izumi is married to a famous romantic novelist but their life seems just a simple repetition without romance. One day she decides to follow her desires and accepts to be a naked model that fakes sex in front of the camera. Soon she meets a mentor and starts selling her body to strangers but at home, she is still the wife she is supposed to be. A brutally murdered body is found in the love hotels district. The police tries to understand what happened.
Cannes 2011
Director's Fortnight
More Films
A film by Danielle Arbid
2015 - France - Drama - 1.85 DCP - 119 min.
The 90's. Lina, 18, arrives to Paris for her studies. She is looking for what she can't find in her home country Lebanon: a taste of freedom. Lead by her natural instinct for self-preservation, she experiences different sides of the Parisian jungle and becomes conscious of her own place. Because when you are 18, your dream is to embrace the world - not just one boy...
A film by Oleg Pogodin
2012 - Russia - Drama/Action - 2.35 DCP - 109 min.
In a large house in the middle of the steppes, the Shamanovs meet for a family gathering. When suddenly the eldest brother Victor appears after a 25 year absence, unspoken family conflicts come to light. Nobody suspects that Victor is escaping his dark past and that killers are looking for his hiding place.
A film by Agnieszka Holland
2020 - Czech Republic/Ireland/Poland/Slovakia - Drama - 2.35 - 118 min.
Inspired by the true story of herbalist Jan Mikolasek, who dedicated his life to caring for the sick in spite of the immense obstacles he faced in his private and public life. Born at the turn of the 20th century, Mikolasek wins fame and fortune using unorthodox treatment methods to cure a wide range of diseases. Already a local institution in Czechoslovakia before World War II, the healer gains in reputation and wealth whether during the Nazi occupation or under the Communist rule. One after the other, every regime will want to use his skills and in return gives him protection. But how high shall be the costs to maintain this status as the tide turns?