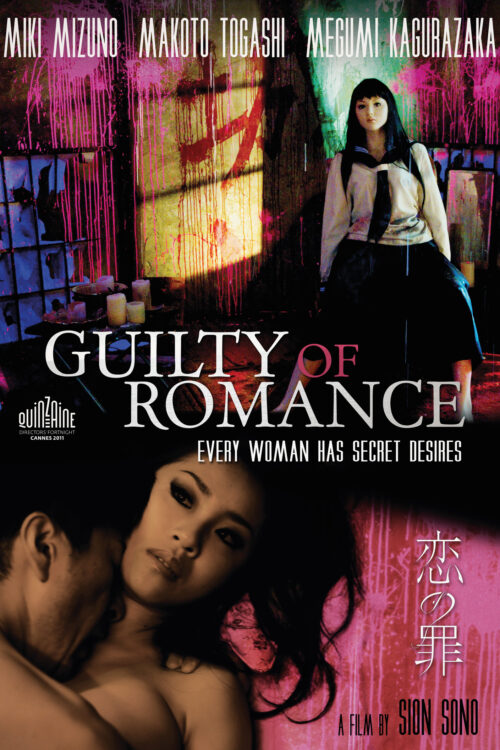 Guilty Of Romance
A Film by Sion Sono
2011 - Japan - Drama - 2.35 DCP - 149 min.
with Megumi Kagurazaka , Miki Mizuno , Makoto Togashi , Kanji Tsuda , Ryo Iwamatsu & Ryuju Kobayashi
Language: Japanese
Produced by Yoshinori Chiba & Nobuhiro Iizuka
Izumi is married to a famous romantic novelist but their life seems just a simple repetition without romance. One day she decides to follow her desires and accepts to be a naked model that fakes sex in front of the camera. Soon she meets a mentor and starts selling her body to strangers but at home, she is still the wife she is supposed to be. A brutally murdered body is found in the love hotels district. The police tries to understand what happened.
Cannes 2011
Director's Fortnight
More Films
A film by Maryam Touzani
2022 - Morocco/France/Belgium/Denmark - Drama - 1.85 - 123 min.
Halim and Mina run a traditional caftan store in one of Morocco's oldest medinas. In order to keep up with the commands of the demanding customers, they hire Youssef. The talented apprentice shows an utmost dedication in learning the art of embroidery and tailoring from Halim. Slowly Mina realizes how much her husband is moved by the presence of the young man.
A film by Savi Gabizon
2017 - Israel - Drama - 2.39 - 103 min.
Ariel, a well-off, childless man, gets a phone call from his college girlfriend. She needs to tell him a couple of very surprising things: first, when they broke up twenty years ago, she was pregnant and went on to have a lovely boy. The second thing will make Ariel explore the hidden aspects of parenthood and change his life forever.
A film by João Pedro Rodrigues
2022 - France/Portugal - Fantasy/LGBT/Musical - 1.85 - 67 min.
On his deathbed, his royal highness Alfredo, King without a crown, is taken back to distant youth memories and the time he dreamt of becoming a fireman. The encounter with instructor Afonso from the fire brigade, opens a new chapter in the life of the two young men immersed in love and desire, and the will to change the status quo.