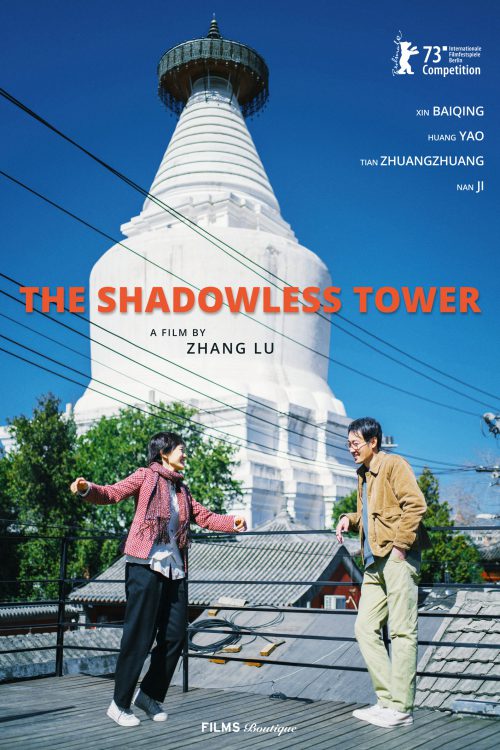 The Shadowless Tower
A Film by Zhang Lu
2023 - China - Drama - 1.85:1 - 144 min.
with Xin Baiqing , Huang Yao & Tian Zhuangzhuang
Language: Mandarin
Produced by Jiahan Xu
Gu Wentong, a middle-aged food critic, is drifting through the local eateries of vibrant Beijing with his younger photographer colleague Oyang. A divorcé with a 6-year-old daughter and estranged from his father for decades, he is looking for a new perspective on life while reconsidering his failings as a father, a son, and a lover. While the seasons come and go, people get together and move apart. Only one thing will remain the same: The White Pagoda where they all meet sooner or later...
Berlinale 2023
Competition
More Films
A film by Maha Haj
2016 - Israel - Comedy/Drama - 1.85 - 90 min.
In Nazareth, an old couple lives wearily to the rhythm of the daily routine. On the other side of the border, in Ramallah, their son Tarek wishes to remain an eternal bachelor, their daughter is about to give birth while her husband lands a movie role and the grandmother loses her head ... Between check-points and dreams, frivolity and politics, some want to leave, others want to stay but all have personal affairs to resolve.
A film by Jairo Eduardo Carrillo & Oscar Andrade
2010 - Colombia - Animation/Documentary - DCP - 75 min.
"Little voices" is an animated documentary film based on interviews and drawings of a new generation of displaced children (8 to 13 years old) who have grown up in the middle of violence and chaos in Colombia. Furthermore, the interviews show how they perceive their reality, and the stories have been illustrated and animated based on the original drawings of the children.
Mr Bachmann and his class
A film by Maria Speth
2021 - Germany - Documentary - 2.39 - 217 min.
MR BACHMANN AND HIS CLASS is an intimate documentary portraying the bond between an elementary school teacher and his students. His unconventional methods clash with the complex social and cultural realities of the provincial German industrial town they live in.