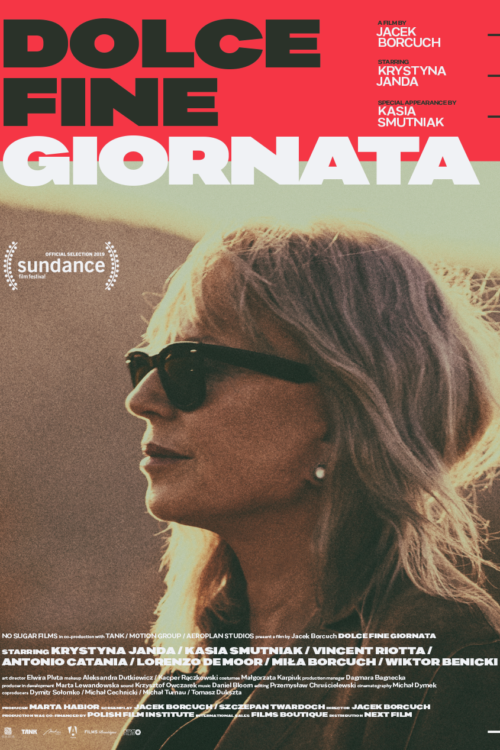 Dolce Fine Giornata
A Film by Jacek Borcuch
2019 - Poland - Drama - 2.39 - 96 min.
with Krystyna Janda , Kasia Smutniak , Vincent Riotta , Antonio Catania , Robin Renucci & Lorenzo de Moor
Languages: English , Italian , Polish
Produced by Marta Habior
Maria Linde, a free-spirited, Jewish Polish Nobel Prize winner, lives in Tuscany surrounded by warmth and chaos in her family's villa. A loving mother and grandmother, she also fosters a secret flirtation with the much younger Egyptian man who runs a nearby seaside inn. After a terrorist attack in Rome, Maria refuses to succumb to the hysterical fear and anti-immigrant sentiment that quickly emerge, deciding in her acceptance speech of a local honor to boldly decry Europe's eroding democracy—but she is unprepared for the public and personal havoc her comments wreak.
Sundance IFF
World Dramatic Competition
Sundance 2019
Best Actress
More Films
A film by Claire Simon
2008 - France/Belgium - Comedy/Drama - 2.35 DCP - 122 min.
Djamila would like to be on the pill because her relationship with her boyfriend has become serious stuff now; Zoé's mother gives her condoms but calls her a whore; Nejma hides her pills outside because her mother searches her bag; Hélène finds herself too fertile; Clémence is scared; Adeline wishes she could have kept it, and so does Margot. Maria Angela would like to know who she's pregnant by, while Ana Maria has opted for love and freedom. Anne, Denise, Marta, Yasmine, and Milena are the advisers receiving and listening to each of these women as they wonder how sexual freedom can be enjoyed. In God's offices, you laugh and cry and feel swamped. You dance there, you have a cigarette on the veranda, and you come anonymously to tell the commonplace or unbelievable story of your life.
A film by Jeremie Guez
2018 - France/Belgium - Drama - 85 min.
Attempting to lead a quiet reformed life, an ex-con finds refuge in a motel run by a single mother and her daughter Clara. The peace and freedom he has found in this safe haven disappears when Clara is assaulted, forcing him to face his old demons.
A film by Adrian Sitaru
2011 - Romania - Drama - 2.35 DCP - 102 min.
Alex, in his mid-thirties, is a quite neurotic character. When his mother is hospitalized with a stroke, the caring son's life gets out of track. At the hospital he finds himself in a burlesque kind of human zoo full of unexpected characters and surprising events. Trying to manage the situation in between everybody's advice, he's becoming hypochondriac. While his mother seems to feel perfectly fine Alex is making his
own set of mistakes – throughout with best intentions.