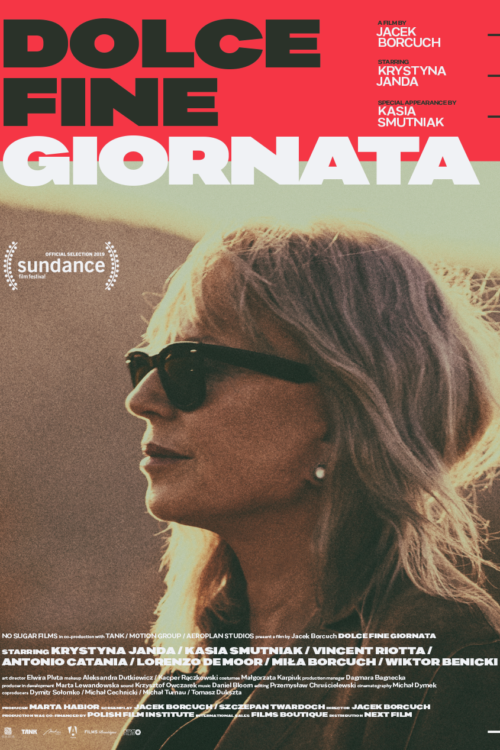 Dolce Fine Giornata
A Film by Jacek Borcuch
2019 - Poland - Drama - 2.39 - 96 min.
with Krystyna Janda , Kasia Smutniak , Vincent Riotta , Antonio Catania , Robin Renucci & Lorenzo de Moor
Languages: English , Italian , Polish
Produced by Marta Habior
Maria Linde, a free-spirited, Jewish Polish Nobel Prize winner, lives in Tuscany surrounded by warmth and chaos in her family's villa. A loving mother and grandmother, she also fosters a secret flirtation with the much younger Egyptian man who runs a nearby seaside inn. After a terrorist attack in Rome, Maria refuses to succumb to the hysterical fear and anti-immigrant sentiment that quickly emerge, deciding in her acceptance speech of a local honor to boldly decry Europe's eroding democracy—but she is unprepared for the public and personal havoc her comments wreak.
Sundance IFF
World Dramatic Competition
Sundance 2019
Best Actress
More Films
A film by Philippe Grandrieux
1999 - France - Drama/Horror - DCP - 112 min.
Following the route of the Tour de France, a solitary motorist Jean periodically stops off to pick up and brutally kill prostitutes. During a rain storm, he runs into a young woman, Claire, whose car has broken down. He offers her a lift...
A film by Oleg Pogodin
2012 - Russia - Drama/Action - 2.35 DCP - 109 min.
In a large house in the middle of the steppes, the Shamanovs meet for a family gathering. When suddenly the eldest brother Victor appears after a 25 year absence, unspoken family conflicts come to light. Nobody suspects that Victor is escaping his dark past and that killers are looking for his hiding place.
FOREST - I See You Everywhere
A film by Bence Fliegauf
2021 - Hungary - Drama - 1.85
Seven hypnotic and unpredictable short stories culminate in a psychological kaleidoscope of couples, families and friends, all connected by their common fate. A standalone-sequel to Bence Fliegauf's 2003 festival-hit FOREST.